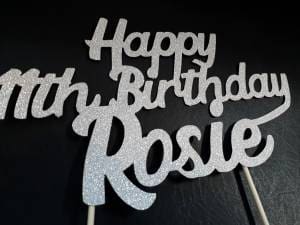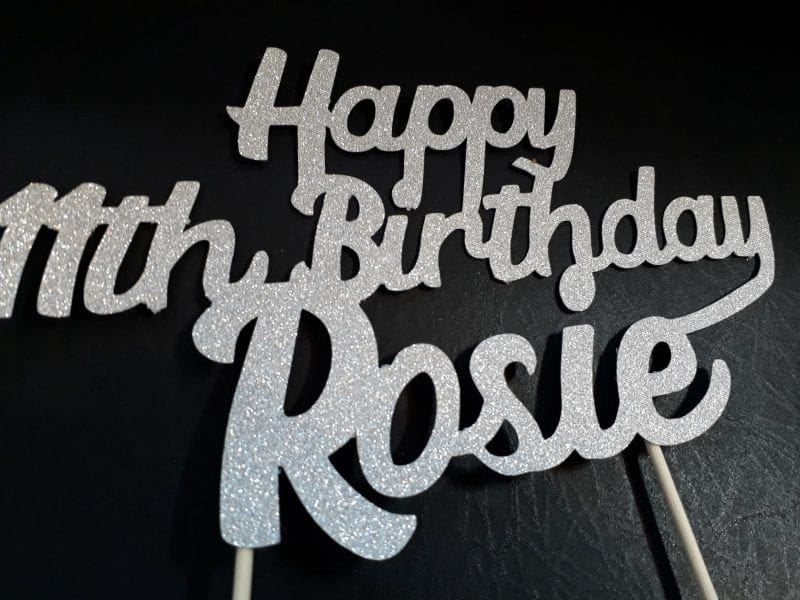 Creating Glitter Card Cake Toppers
Firstly design your cake topper. The wording needs to be joined together by ungrouping and welding your text, so that it cuts as one design.
Cut one piece of your design as you see it the right way of reading it and cut the same piece but mirrored so the wording is in reverse.
Send to cut using our suggested cut settings for our Glitter card.
When placing our Glitter Card on your cutting mat we suggested placing the glitter side face down onto the mat.
Always cut using 2 or 3 cut passes, rather than deeper blade settings or extra force, as that results in too much pressure on the card and can cause the cut to 'miscut' or not cut successfully.
When weeding, if you find sharp corners are difficult to remove use our weeding tweezers to help remove the cut-out, rather than tug at it, as that would result in torn rough edges.
For stability it is recommended to cut another 1 or 2 layers from plain white card. These will be 'packed' in-between the front and back layer to give it more stability and prevent it from flopping.
Use wood skewers, taped or glued in place between the layers.
Your Card Topper is now complete.
(Keep away from naked flames such as candles)