Iron on HTV (Heat Transfer Vinyl) Successfully.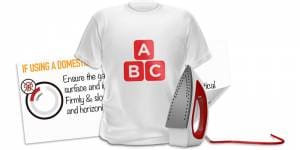 All of our HTV (Heat Transfer Vinyl) ranges are iron on friendly.
Click here for our iron on Heat Transfer Vinyl.
The most common questions we come across is what is the best method for hassle free adhesion.
We've compiled the steps below to help you.
Set your iron to the Cotton setting and turn any steam function off.
Press clothing to remove moisture and wrinkles.
Place the design carrier sheet side up and cover with a Teflon/silicone sheet (cover sheet). Pressing times depends on HTV being used. (These will be on the packaging the vinyl came in.)
Using both hands, keep the iron over the HTV for the recommended time, with some HTV's you may need to add an extra few seconds.
Do not move the iron around while pressing.
If covering a large area, press on one area and then move onto the next. (If you do have steam holes on the base, just move it slightly so that the heat gets to all areas equally).
If you press for too long you may melt the adhesive and if you don't press for long enough it may come off.
The key to a success is pressure – heat presses bear down and clamp the garment, so you need to be imitating this pressure.
The floor is a great for pressing onto, as you have more force to bear down with, but a sturdy work surface will suffice.
Check if it is a Cool / Warm or Hot Peel and peel the carrier sheet away accordingly.
If any vinyl looks like it has not stuck, recover with the carrier and cover sheet and re-press for a few more seconds.
After you have peeled the liner, place the cover sheet back over the HTV and give it an iron as normal.