Silhouette Cameo 4 
With more speed and power than any other Silhouette machine, the Cameo 4 is a desktop cutting machine for the modern maker. With certain materials you can now choose to cut from a mat or go completely matless using Cameo 4's smart cutting technology. You can also cut directly from a roll using the built-in roll feeder and crosscutter. Cut out or sketch on dozens of materials such as vinyl, cardstock, fabric, and more.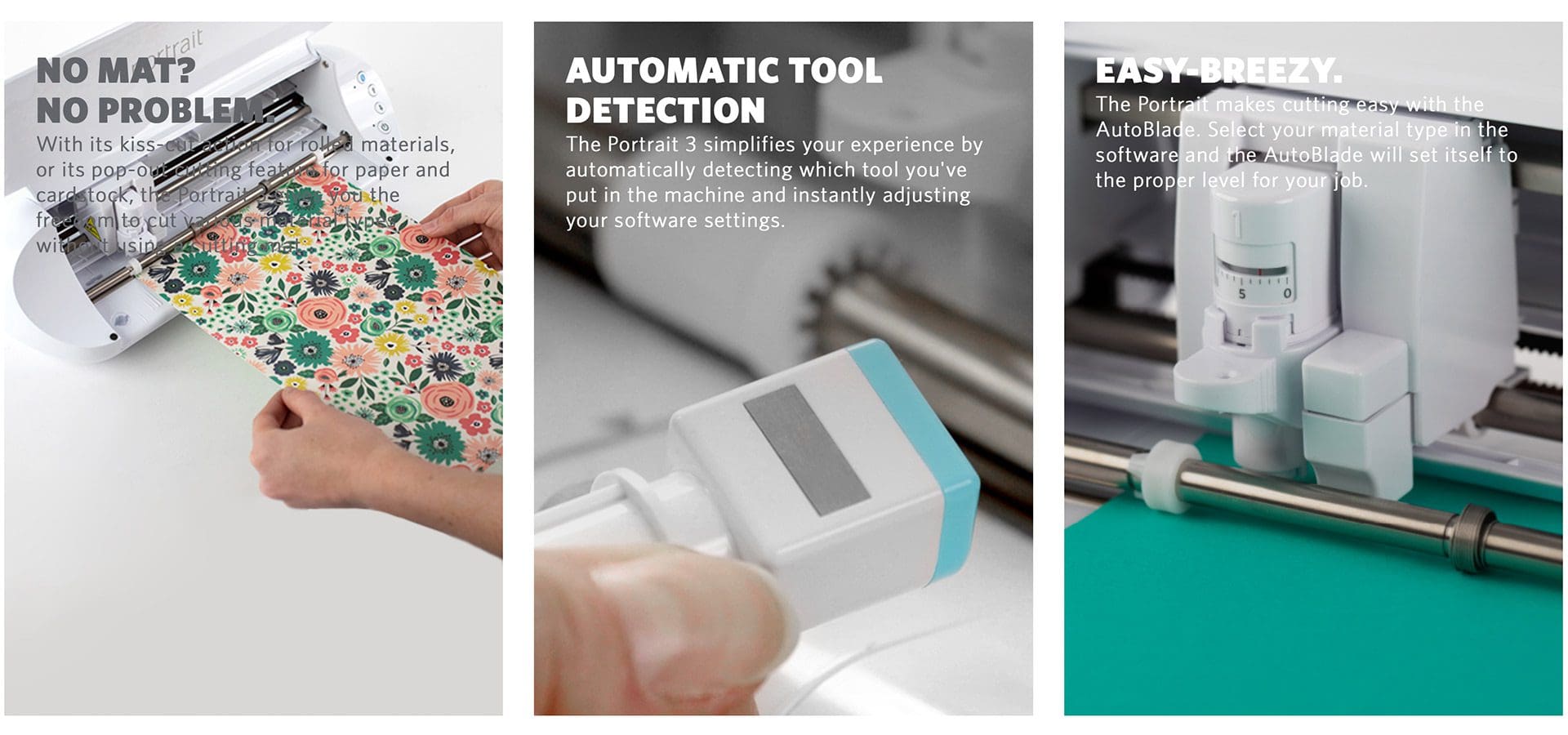 Silhouette Cameo® 4 Features:
Built-in roll feeder allows you to easily load and cut rolled materials like vinyl and heat transfer
Built-in crosscutter lets you trim vinyl or heat transfer right from the roll
Full 12-inch cutting width (when using a cutting mat)
Cut up to 10 feet in length (with select materials)
Matless cutting capabilities (see Tech Specs for full details)
3 mm clearance for thicker materials
Automatic tool detection
Sleek, compact aesthetic with a sliding lid and feather-light backlit touch panel
Wireless cutting with Bluetooth® connectivity
Print & Cut registration capability
PixScan™ compatible
Driven by Silhouette Studio® giving you limitless design options to customize your projects



Silhouette Cameo® 4 Includes:
FREE £20 GIFT CARD for use in Silhouette Design Store included.
Silhouette Cameo® 4
Power cable & USB cable
Cameo Cutting Mat (12″ x 12″)
AutoBlade
Adapters for standard blade, premium blade, deep-cut blade, 2mm Kraft Blade, and Silhouette sketch pens
Silhouette Studio® software (download)
100 exclusive designs (download)
1-month Silhouette Design Store subscription (available with tool registration)
Warranty: 3 year extended parts and labor (Limited to UK Models only)
Additional Tools Available (sold separately):
Rotary Blade
Kraft Blade
Punch Tool
Pen Holder
* Matless cutting options available depending on material type. Materials with liners or backing, such as vinyl, heat transfer, and sticker sheets can be fed directly into the Cameo 4 without a cutting mat. Cameo 4 also offers a special "Pop-out" cutting feature for paper and cardstock materials where a cutting mat is not required.
Click here for more information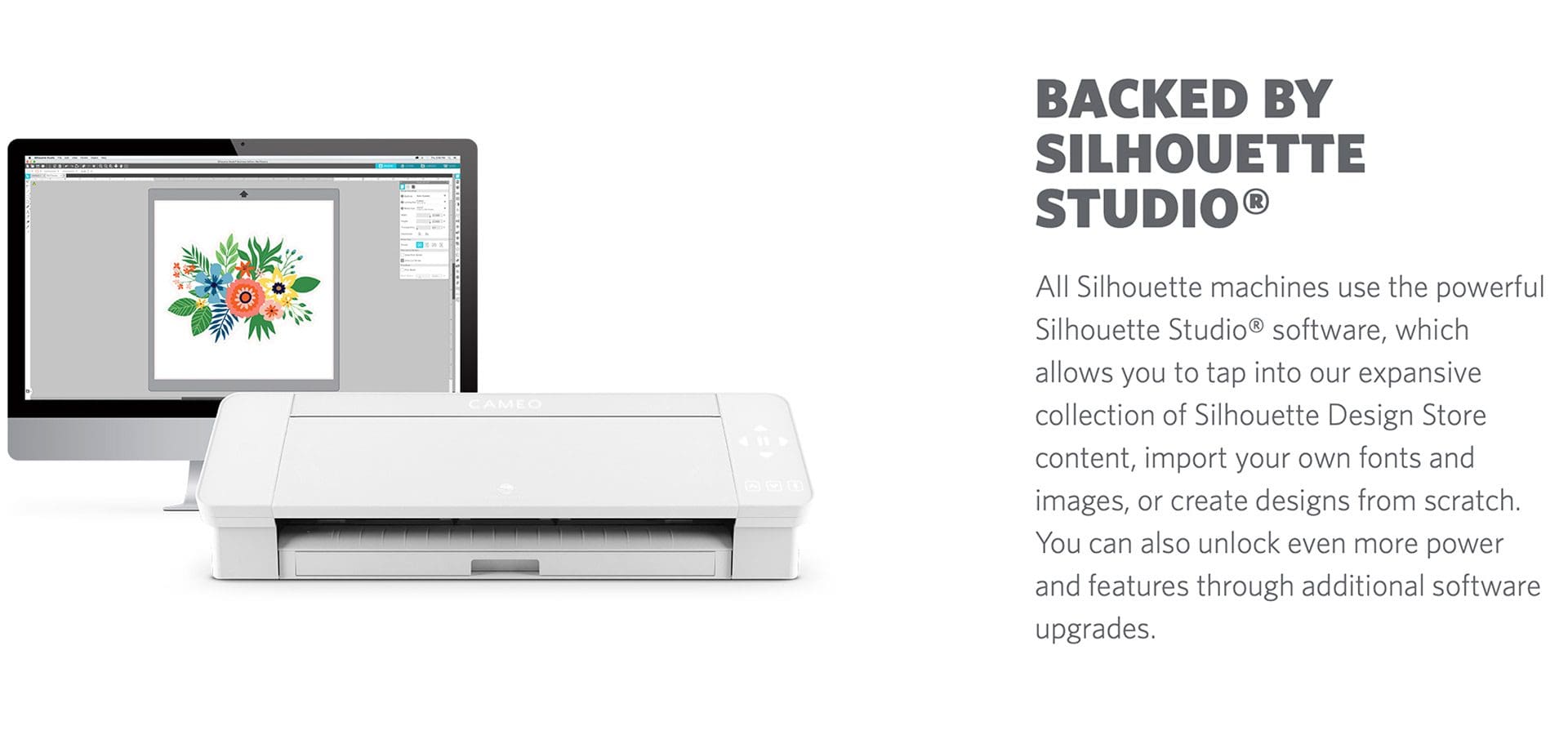 Silhouette Cameo® 4 Tech Specs:
Cutting Area: 12 in. x 24 in. with a cutting mat, 12 in. x 10 ft. with lined media (when using built-in roll feeder)
Matless cutting options available depending on material type. Materials with liners or backing, such as vinyl, heat transfer, and sticker sheets can be fed directly into the Cameo 4 without a cutting mat. The Cameo 4 also offers a special "Pop-out" cutting feature for paper and cardstock materials where a cutting mat is not required.
Maximum Media Thickness: 3 mm (118.11 mils) 
Maximum Cutting Force:

Carriage 1: 210 gf
Carriage 2: 5 kgf (highest in machine class)

Interface: USB 2.0 high speed / Bluetooth®
Unit Dimensions: 22.5 in. x 7.5 in. x 6.75 in. (57 cm x 19 cm x 17 cm)
Unit Weight: 10 lbs 6.4 oz (4.7 kg)
Shipping Dimensions: 25.2 in. x 11.34 in. x 8.78 in. (64 cm x 27.6 cm x 23.4 cm)
Shipping Weight: 13 lbs 11.2 oz (6.2 kg)
Warranty: 3 year extended parts and labor (Limited to UK Models only)
Requires Silhouette Studio® software version 4.3.341 or higher
Minimum System Requirements: Windows 7 or higher or Mac OS X 10.10 or higher, 2 GHz processor, 4 GB RAM, 2 GB available disk space, USB port, High speed internet connection (recommended)