Silhouette Cameo 4 Pro
Introducing the Silhouette Cameo 4 Pro – the ultimate crafting tool for professionals and DIY enthusiasts alike! With its sleek design and powerful capabilities, this cutting machine is the perfect choice for anyone who wants to take their creativity to the next level.
Featuring a 3x faster cutting speed than its predecessor, the Silhouette Cameo 4 Pro can handle even the most intricate designs with ease. Its advanced tool carriage allows for more precise cuts, while the built-in roll feeder and crosscutter make it easy to work with a variety of materials, from vinyl to fabric.
But that's not all – the Silhouette Cameo 4 Pro also comes with a variety of software tools and features to help you create stunning designs in no time. Whether you're a seasoned pro or just getting started, the included Silhouette Studio software makes it easy to design, edit, and cut your creations with ease.
So why wait? Take your crafting to the next level with the Silhouette Cameo 4 Pro today!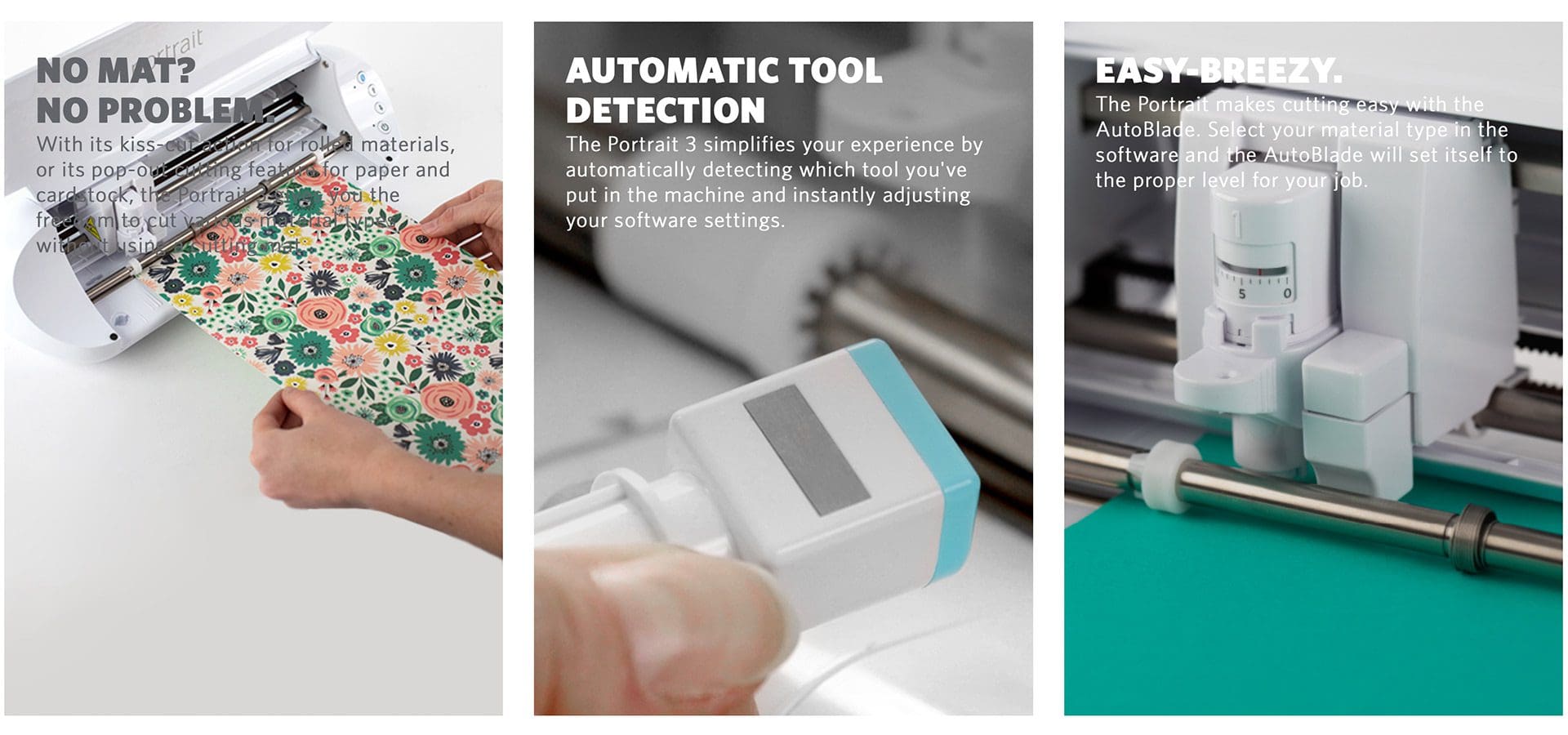 Cameo 4 Pro Key Features:
• Colour: White
• Cut Width: 24″ (610mm)
• Increased Speed (Up To 3x Faster Than Cameo 3)
• Increased Cutting Force Of Up To 5kg
• Bluetooth Wireless Connectivity
• Inc Adjustable Roll Feeder & Media Support Block
• Built-In Vinyl Crosscutter
• 3mm Head Clearance For Thicker Materials
• New Tool Compatibility (Rotary Blade | Kraft Blade | Punch Tool)



Cameo 4 Pro Includes:
• FREE £20 GIFT CARD for use in Silhouette Design Store included.
1 x Autodetect Autoblade
• 1 x 24″ Cutting Mat
• 1 x Sketch Pen Adapter
• Adjustable Clip On Roll Feeder & Media Support Block
• Silhouette Studio Software
• Free One-Month Subscription To The Silhouette Design Store
• 100 Free Digital Designs
• Power Cable | USB Cable | 3 Pin UK Plug
• UK Technical Support
• 2 Year UK Warranty

Additional Tools Available (sold separately):
Rotary Blade
Kraft Blade
Punch Tool
Pen Holder
* Matless cutting options available depending on material type. Materials with liners or backing, such as vinyl, heat transfer, and sticker sheets can be fed directly into the Cameo 4 without a cutting mat. Cameo 4 also offers a special "Pop-out" cutting feature for paper and cardstock materials where a cutting mat is not required.
Click here for more information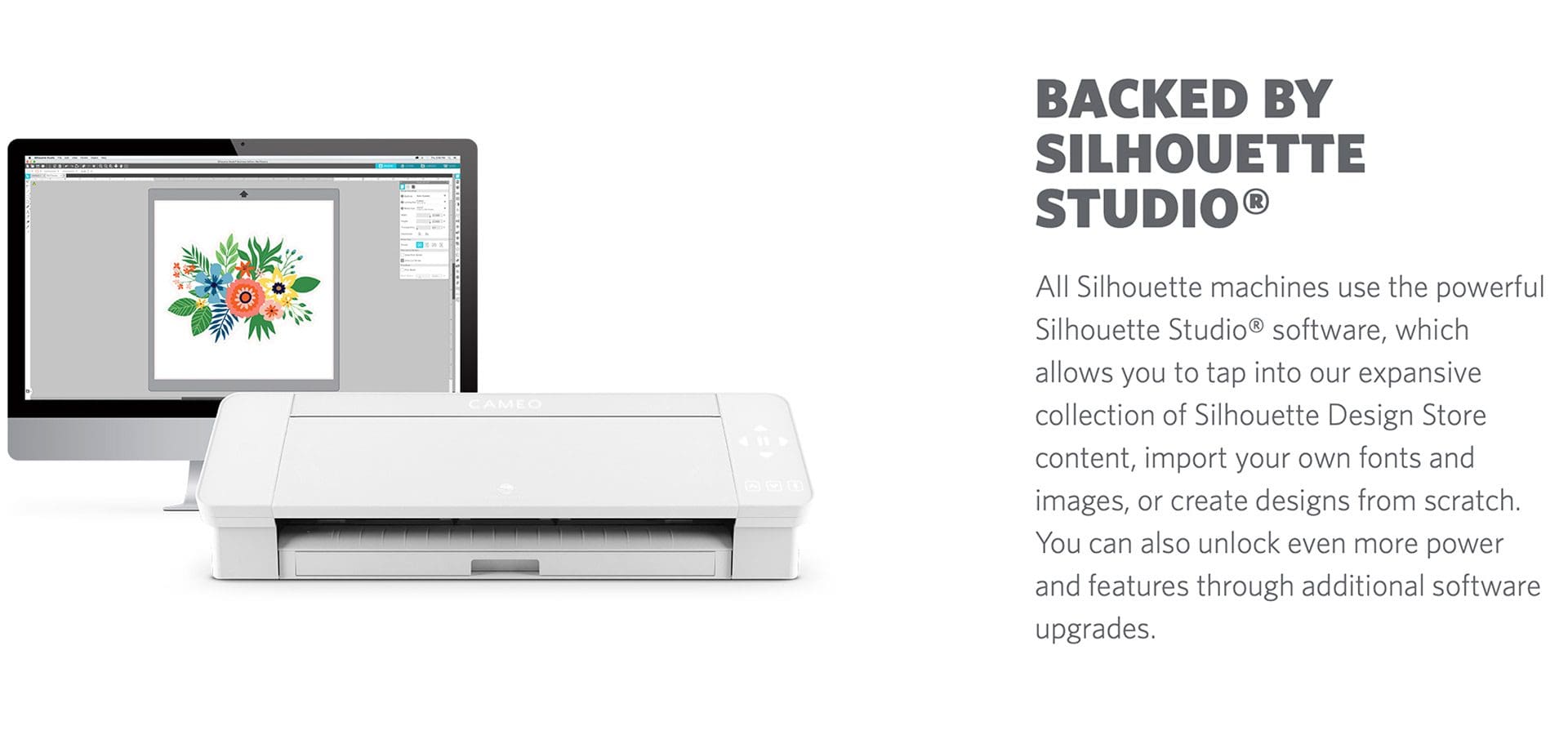 Cutting Area: 24 in. x 24 in. with a cutting mat, 24 in. x 10 ft. with lined media (when using the built-in roll feeder)
Matless cutting options available depending on material type. Materials with liners or backing, such as vinyl, heat transfer, and sticker sheets can be fed directly into the Cameo 4 without a cutting mat. The Cameo 4 also offers a special "Pop-out" cutting feature for paper and cardstock materials where a cutting mat is not required.
Maximum Media Thickness: 3 mm (118.11 mils) 
Maximum Cutting Force:

Carriage 1: 210 gf
Carriage 2: 5 kgf (highest in machine class)

Interface: USB 2.0 high speed / Bluetooth®
Unit Dimensions: 34.5 in. x 7.68 in. x 6.69 in. (87.6 cm x 19.5 cm x 17 cm)
Unit Weight: 19 lbs 6.4 oz (8.8 kg)
Shipping Dimensions: 39 in. x 12 in. x 9.75 in. (99.1 cm x 30.5 cm x 24.8 cm)
Shipping Weight: 26 lbs 1.6 oz (11.84 kg)
Warranty: 2 year parts and labor (Limited to UK models only)
Requires Silhouette Studio® software version 4.4.XXX or higher
Minimum System Requirements: Windows 7 or higher or Mac OS X 10.10 or higher, 2 GHz processor, 4 GB RAM, 2 GB available disk space, USB port, High speed internet connection (recommended)