Hello! Great to see you!
Well it's surprisingly almost time for the kids to head back to school already! Where has the summer gone? You have been asking us to bring you some, back to school inspiration, so we hope you like this weeks tutorial and free files below, this time using our new Glow in the dark HTV colours which have just launched, you can find the whole range here available in 6 fantastic colours that really do GLOW in the dark nights, perfect for school bags, coats and accessories.
And don't forget the tutorial HERE from a few weeks ago which shows you how to transform your HTV into self adhesive so you can match these bags with Lunchbox stickers too using the same vinyl!
This file as always, is ideal for HTV and self adhesive applications and you could even use it in card making!
We would love to see what you make!  Have you found our  You Tube channel yet? The video showing this and all of our other tutorials are  available on there, as well as exclusive demos, inspiration and more!  Join us on Facebook , Instagram or Tiktok or  send us an email to [email protected] we would love to hear from you!
What you'll need:
Cricut Easypress and Easypress Mat here
GMCrafts LED light panel here 
New GM Glow In The Dark HTV here
Squeegee. Available here
Weeding tweezers . Available here
Scissors from your own stash and a School or tote bag,  pencil case, apron or plain t-shirt etc of your choice.
Silicone Paper, this is like the baking paper you can buy in the supermarket on a roll for the kitchen- DO NOT USE TEFLON
 link to create with your own font, is free below! PLUS free cut file below Including Silhouette.  Cricut and Brother instructions to follow at the end.
Instructions;
1. Before you start you will need to visit this webpage and download the font to your machine; https://www.dafont.com/roar-rock.font click on the grey download button and wait for it to download, you will find it in your download files on your computer, See below.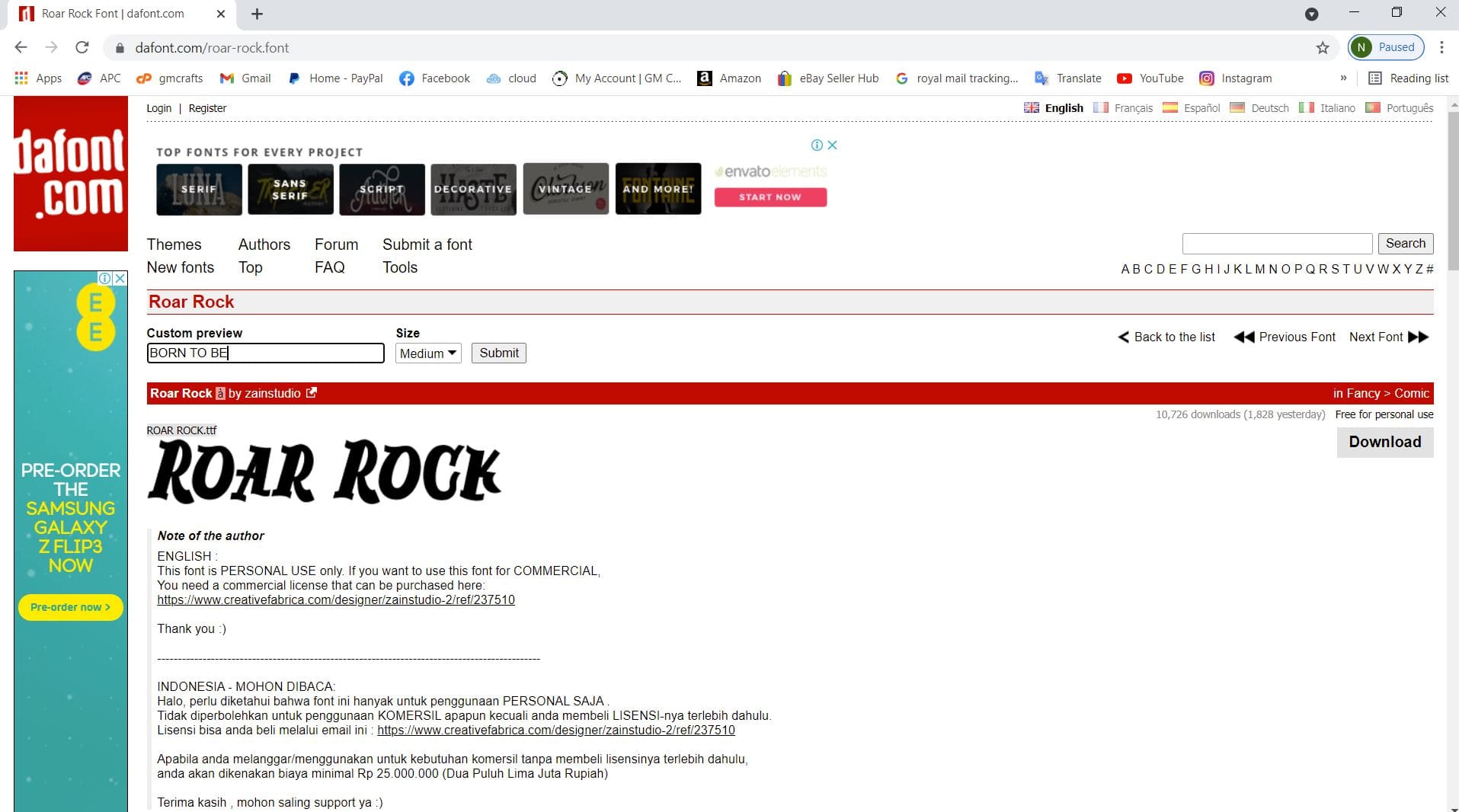 2. Once you find the font file in your downloads, right click on the Zip folder to unzip it, then right click on the font file itself and choose install. Once it has installed, please fully close your design space app (if open) then restart your computer, re open Cricut design space, and click the text tool on the left hand bar. Now when you click the text button you can choose Roar Rock in the font box at the top left. Type the wording  you wish to use. We chose "Born to be a Unicorn" and "Born to be a Gamer" to go at the top of our designs and then "Forced to go to school" underneath, but you can adapt this as you wish.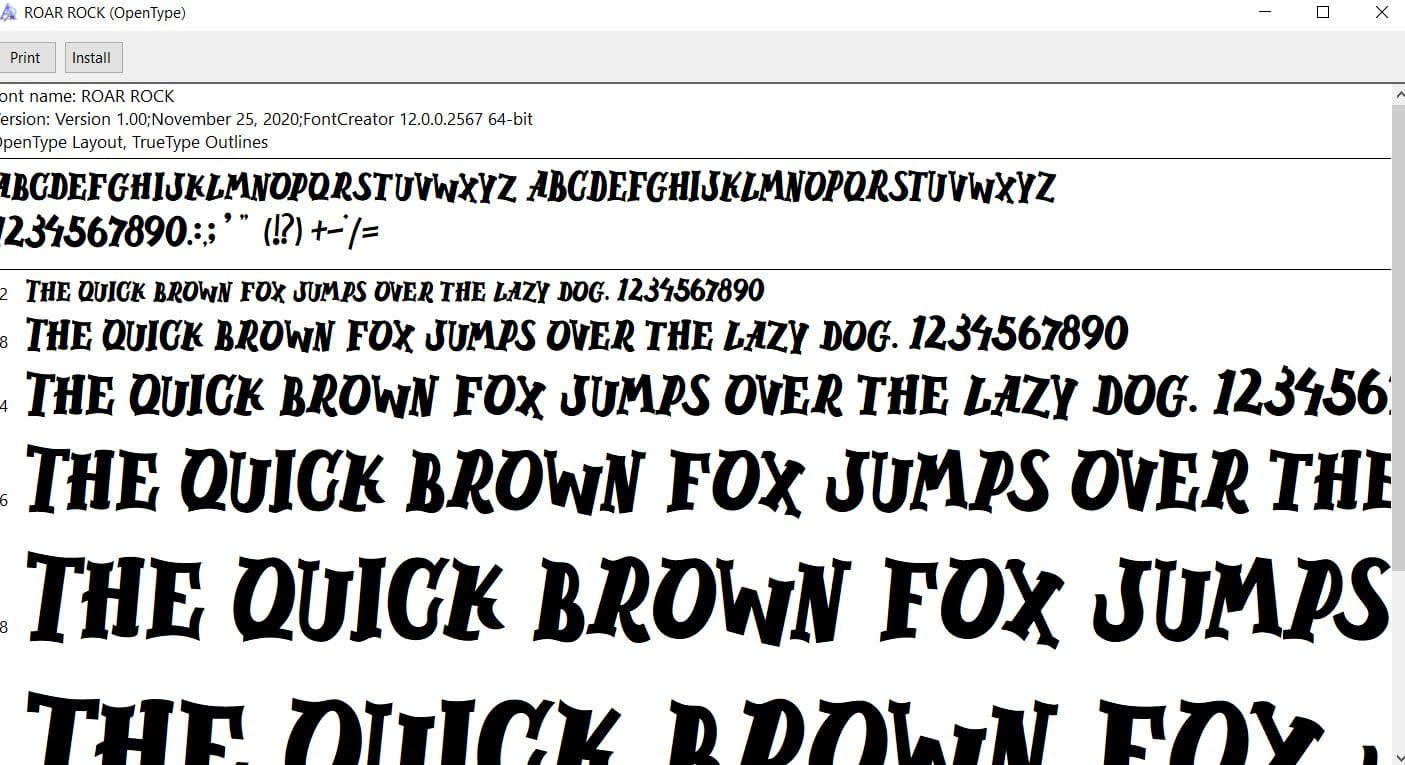 3. Next you will need to download the cut files for your chosen machine, link above. Unzip the file to use it by right clicking it in your downloads. Upload the PNG into the design space. Click "Upload Image"  on the left-hand Design Panel, and navigate to the  files you want to open. Select 'Insert image' and select image type 'simple' when prompted. Next you'll be asked to delete any space that does not get cut, you can skip this part by pressing 'continue'. When asked if they're print-then-cut images or just cut images, select cut images. Click save. When it has been uploaded, Insert the images onto the canvas and resize to suit your project, I Recolour each one differently, so I can cut the different Vinyl for each layer, which means I don't have to keep returning to the design page, see below, then click make it to move on to the next screen. On the next screen, If using the Cricut Maker 3 then you will need to choose to cut on the mat (unless using smart media)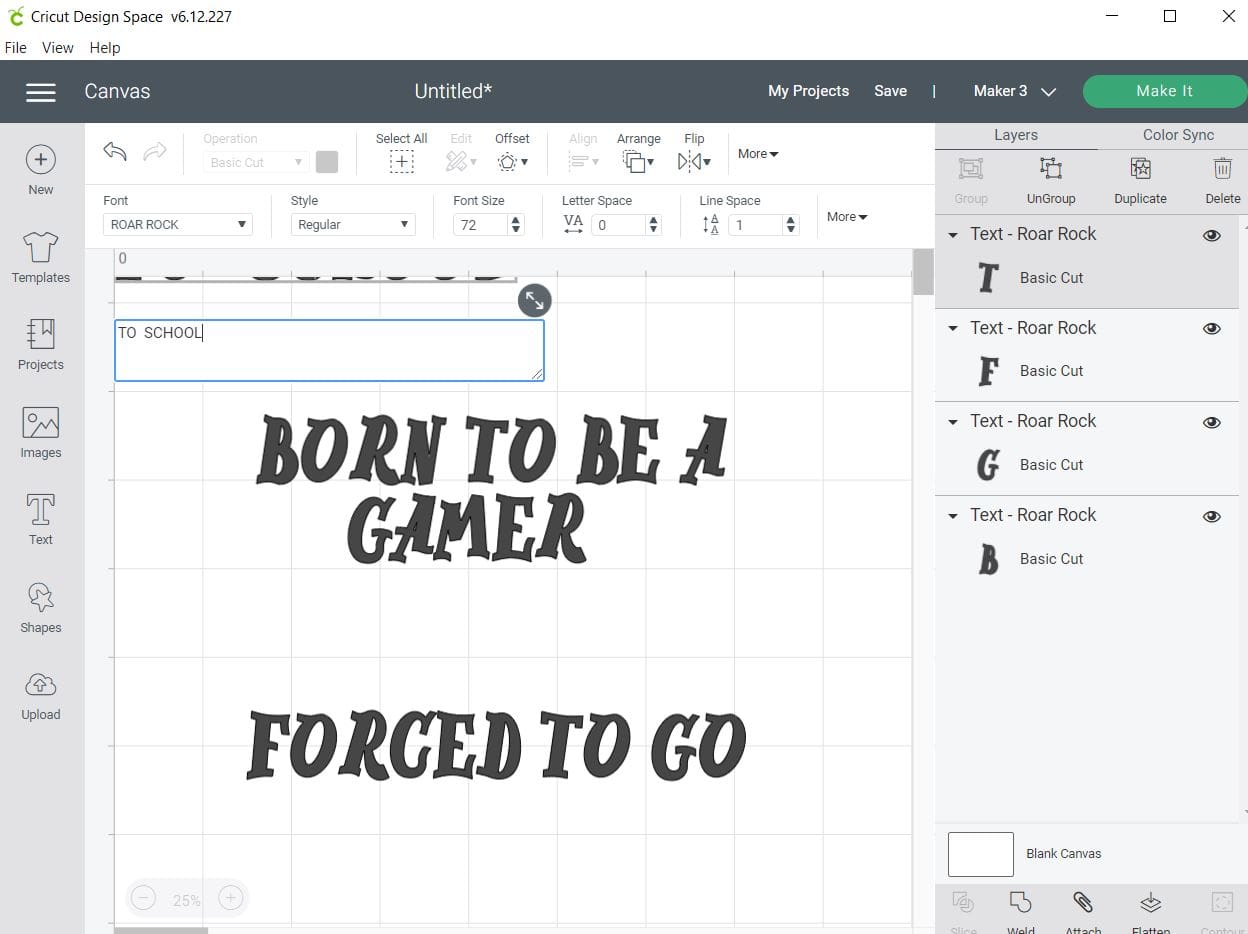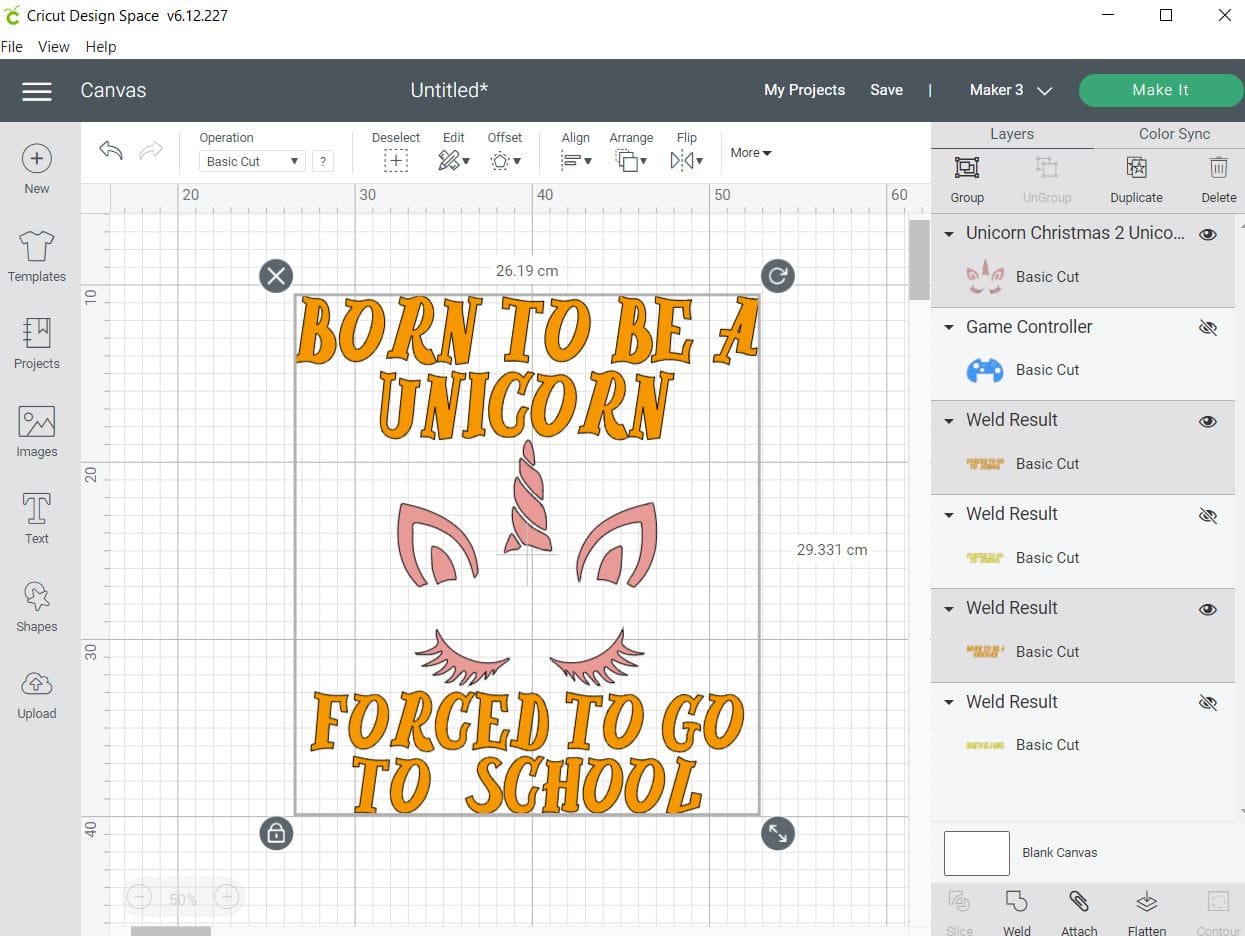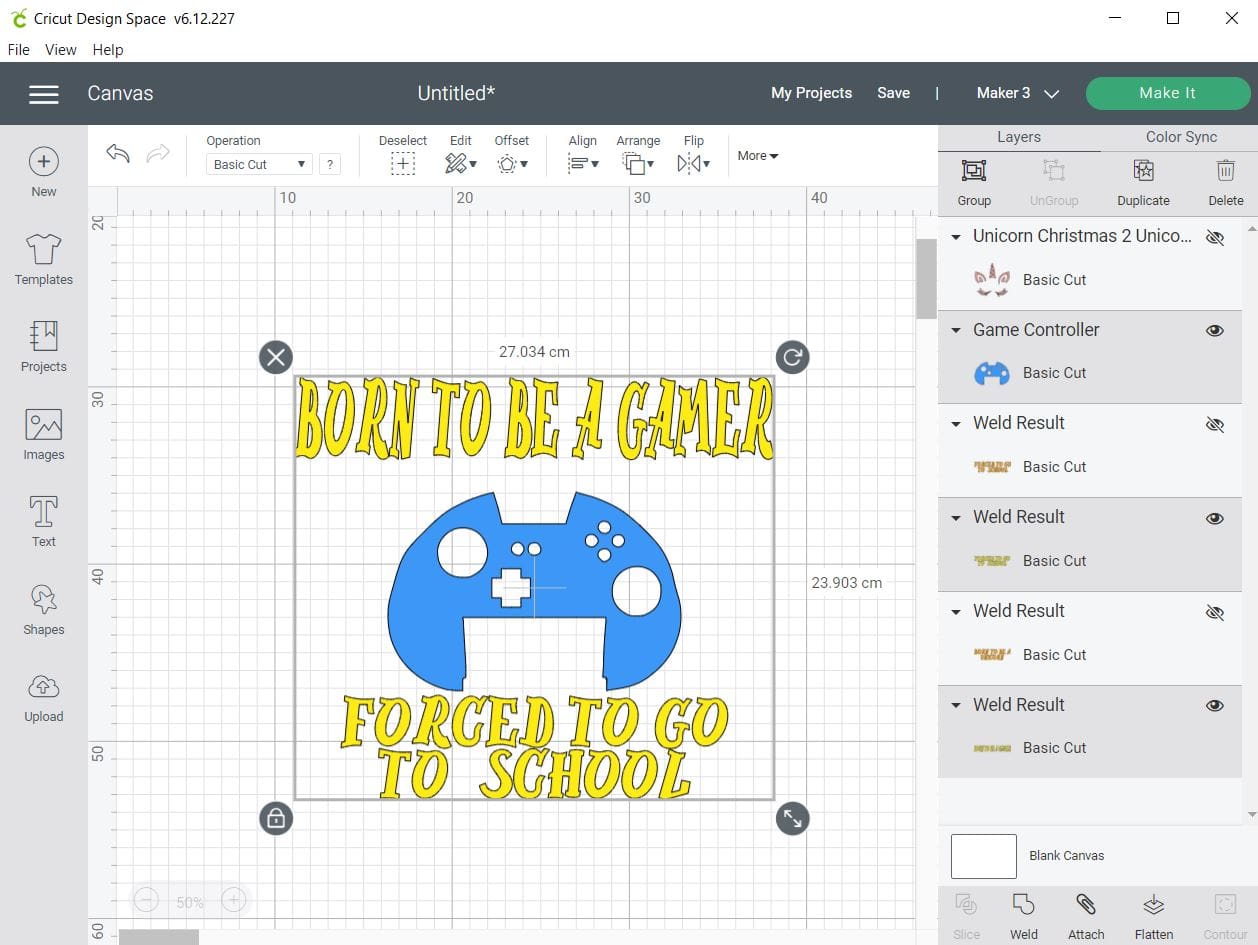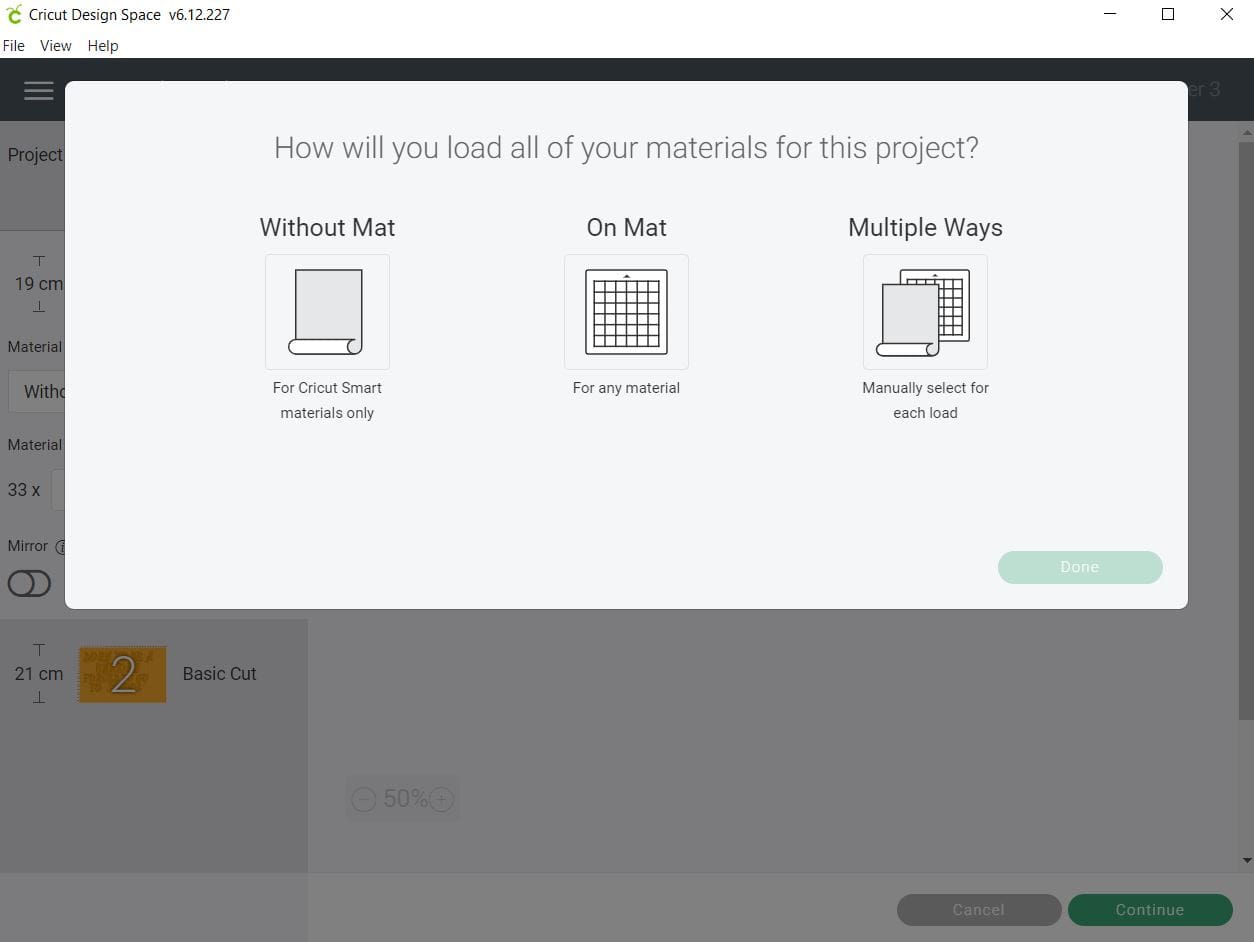 4. Remember to Mirror the wording when using HTV.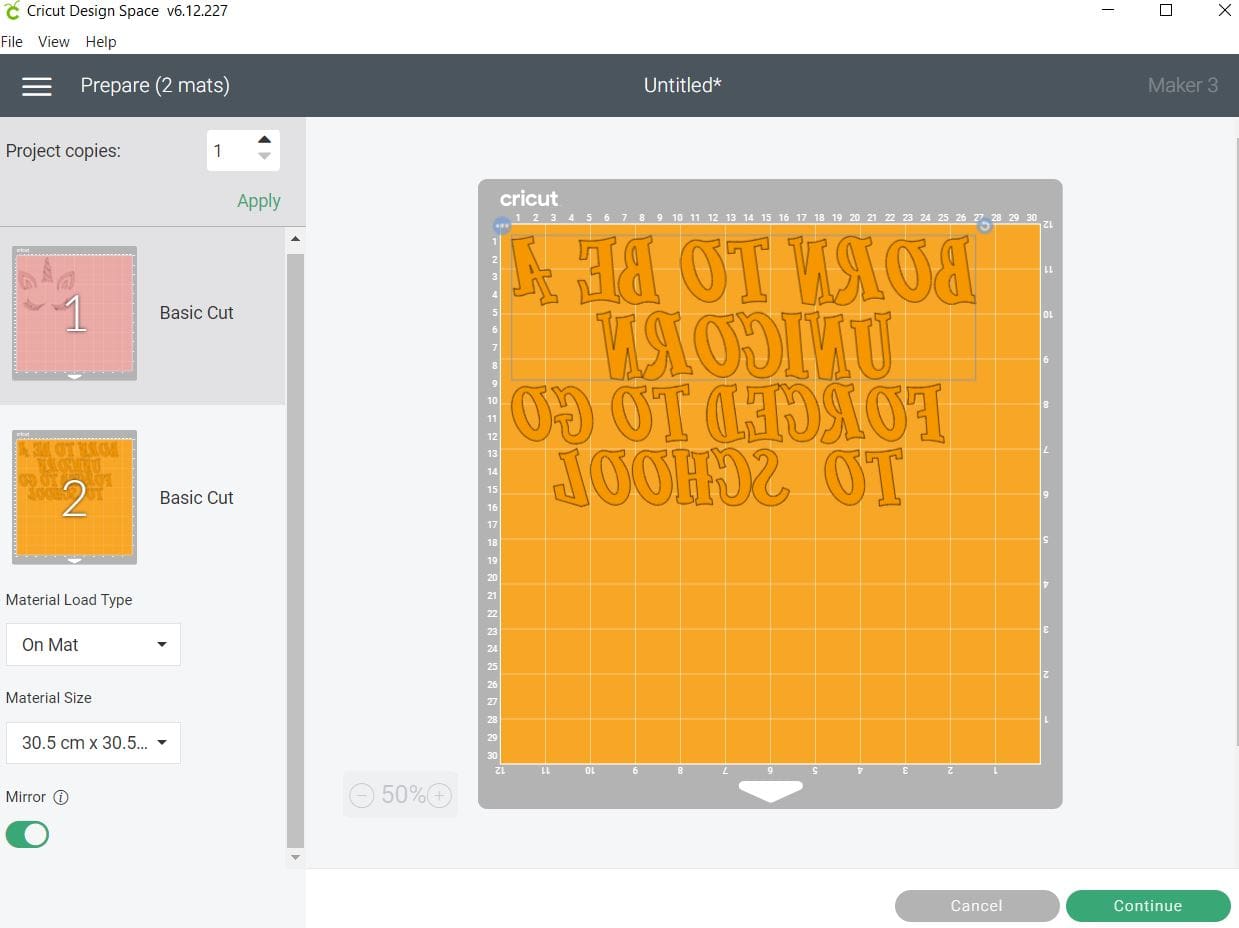 5. Click continue in the bottom right on the next screen. In the next window make sure your settings are all set to the successful settings from your test cut and ensure your machine is linked before proceeding to cut. Cut settings: (**please test cut) Press the flashing Cricut symbol on your maker to cut, after loading the sheet into the machine. Apply the settings needed for your chosen Vinyl, we made it with our GM Glow In The Dark HTV on the maker 3, and used the Everyday Iron on setting on the Cricut maker 3 with More pressure.
**A reminder that these settings, including the blade setting, are specific to the materials and machine we are using, adjustments may be necessary if using different materials and machine**
We always recommend before proceeding, you test cut your materials when first using so if you have not recently used this product in your machine. Please test cut for your chosen machine found on our Application guide, and also Blog.  Load the Vinyl chosen individually for each layer.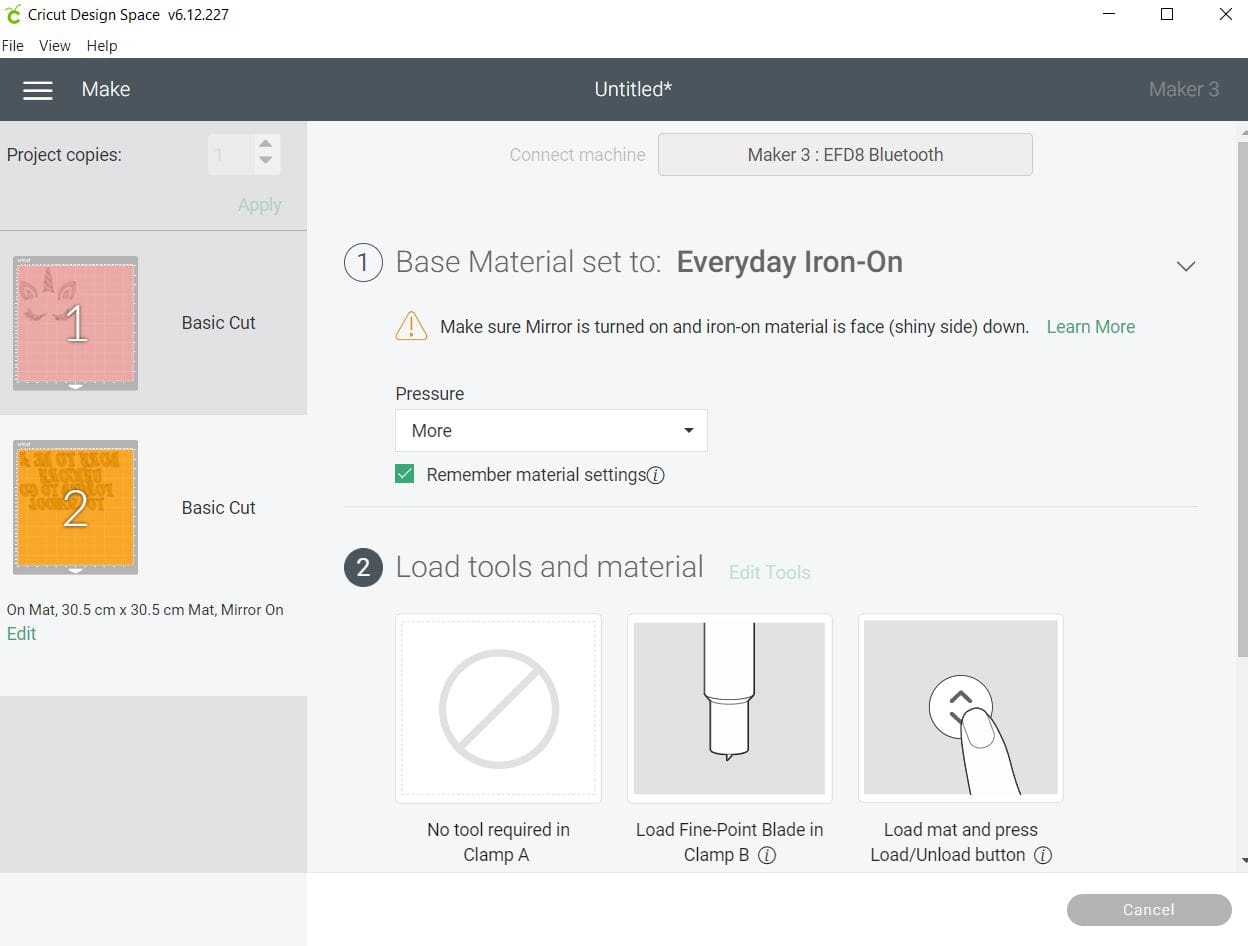 6. Place the Vinyl for the First layer you are cutting on the mat, remember to mirror the wording. Press the up arrow to load the mat, and press the flashing light to proceed to cut on the machine. Once cut repeat to cut with the remaining HTV layer.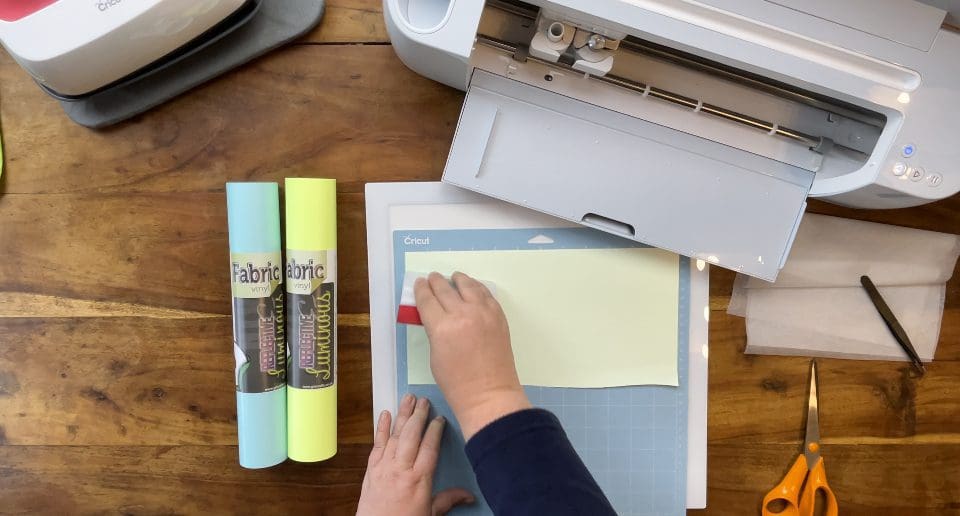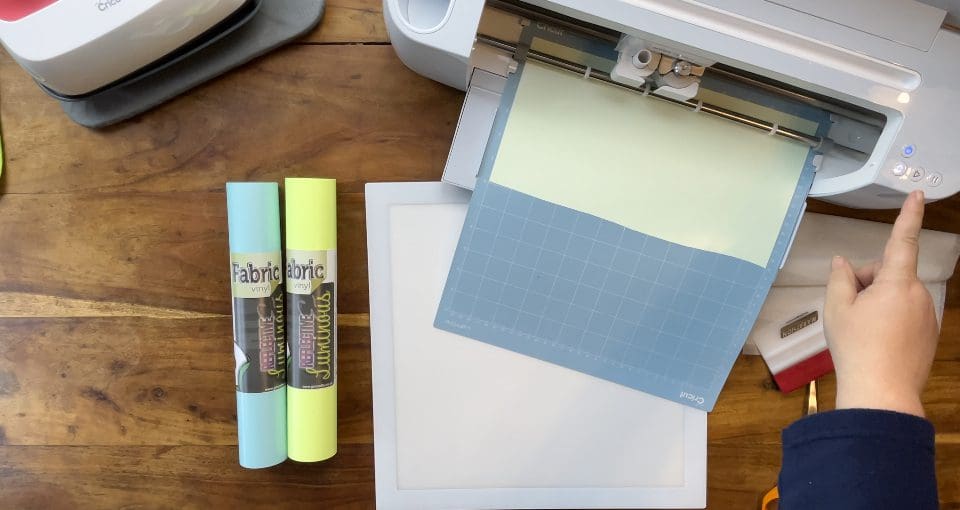 7. Once cut remove from the mat to prepare to weed, switch your LED pad on ready to take the excess waste vinyl away (weeding).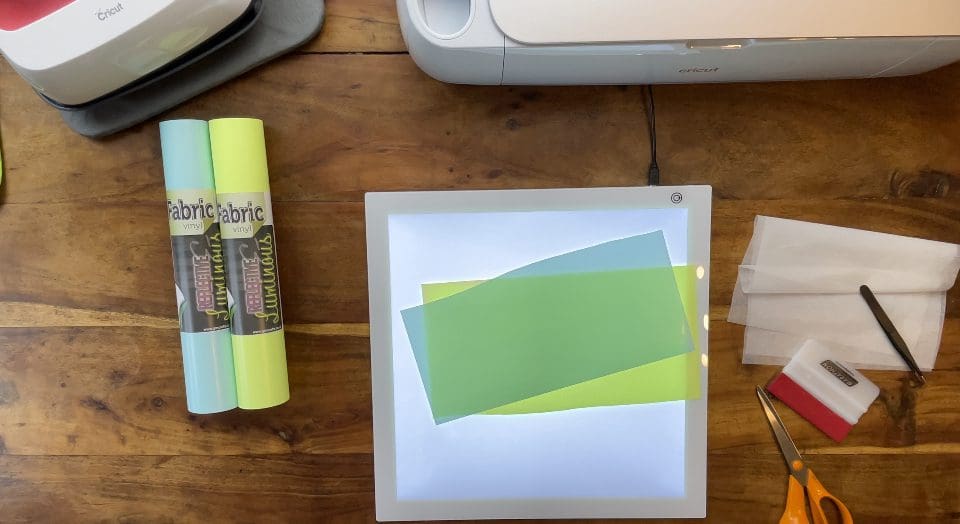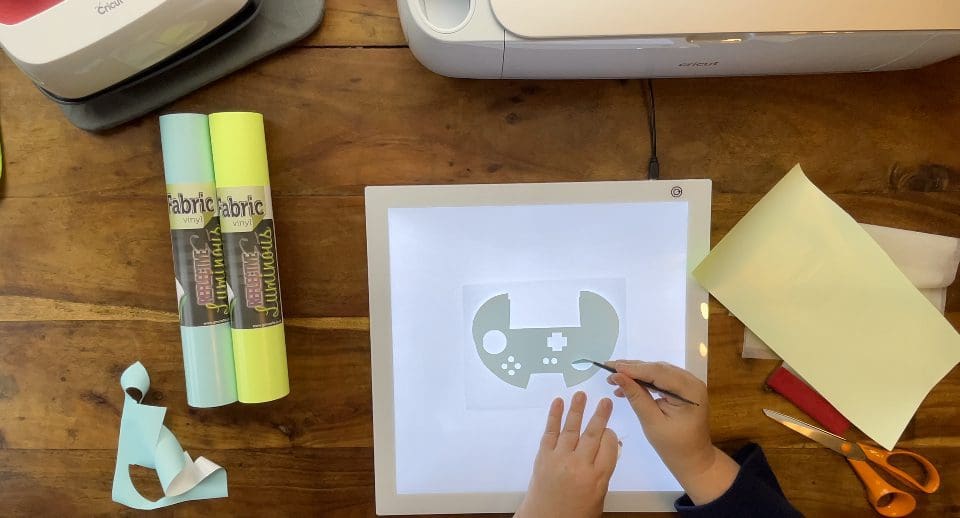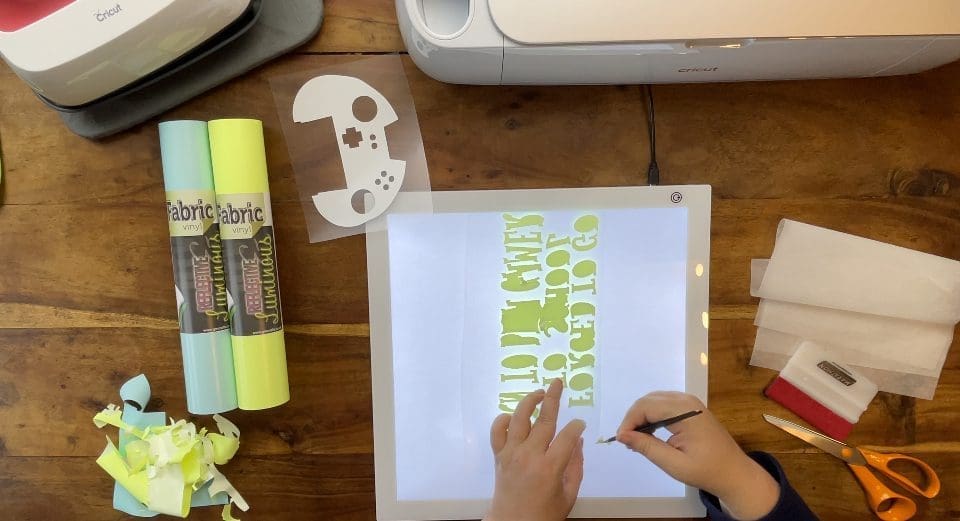 8. Switch on your easy press and set it to 140'c for 10 seconds. Let it preheat.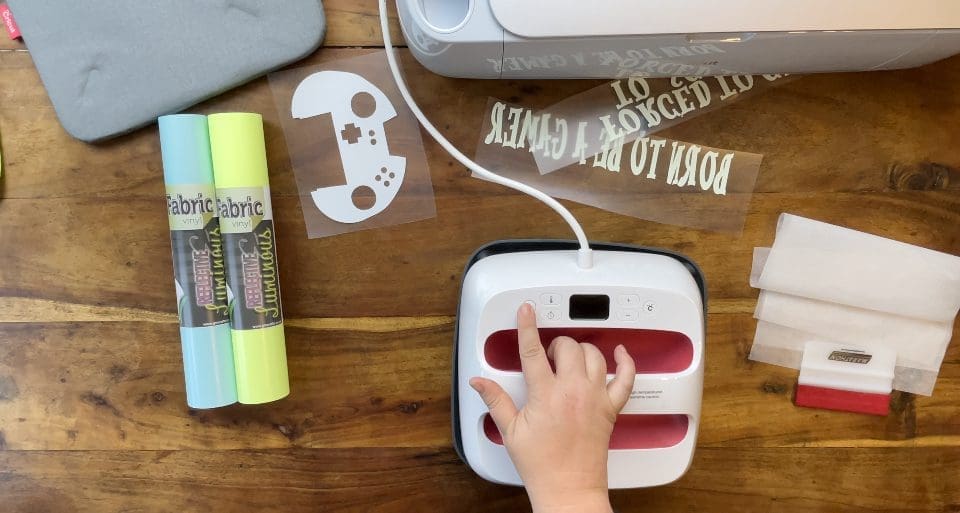 9. Place the easy press mat under the Bag, T-shirt or whatever you are applying it to, and preheat once the press is ready for 10 seconds to remove any moisture. Lay the design already on the transfer tape in the correct place facing up, and ensure it is on a hard surface, or Cricut Easy press matt and on a hard surface,  check our guide here for more information on applying and using HTV successfully. Press each area once only for 10 seconds firmly using your upper body weight over the press, cover any areas that may come into contact with the press when doing the next part, with the silicone paper, warm peel the transfer sheet, if any areas lift once doing this- repress for a few more seconds- please note ensure any collar or seams are off the pressing mat so not to interfere with the pressure needed. See Below.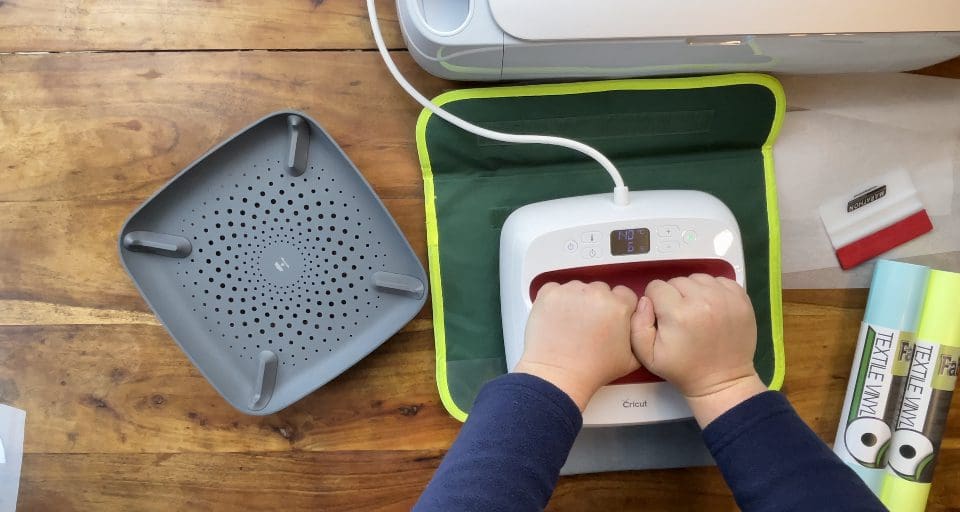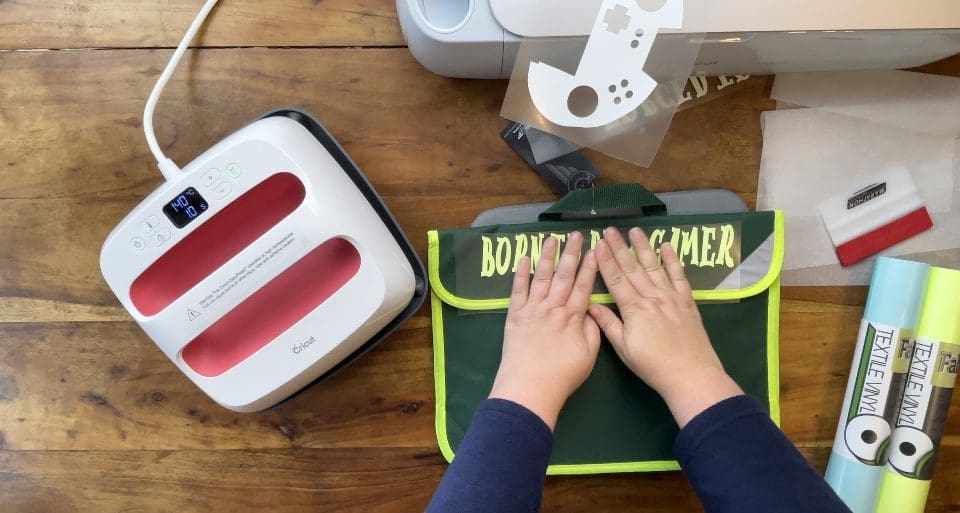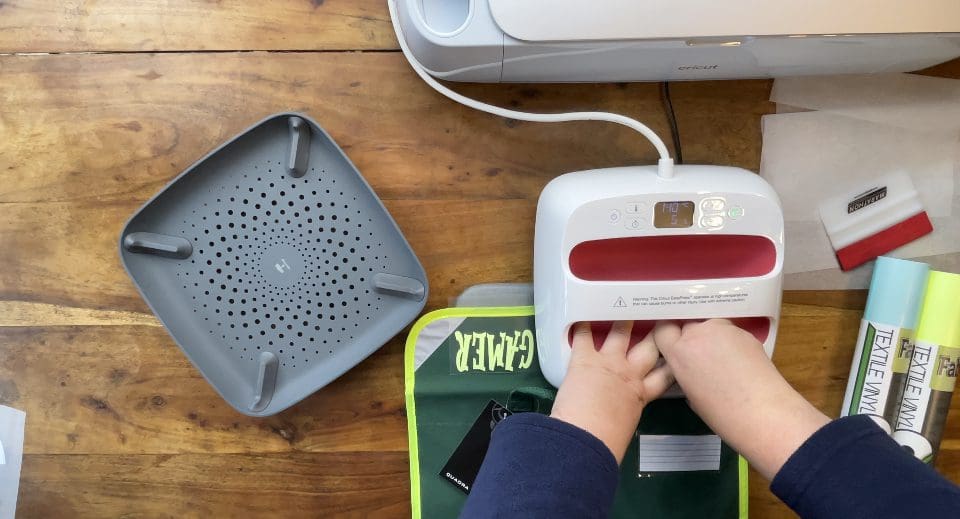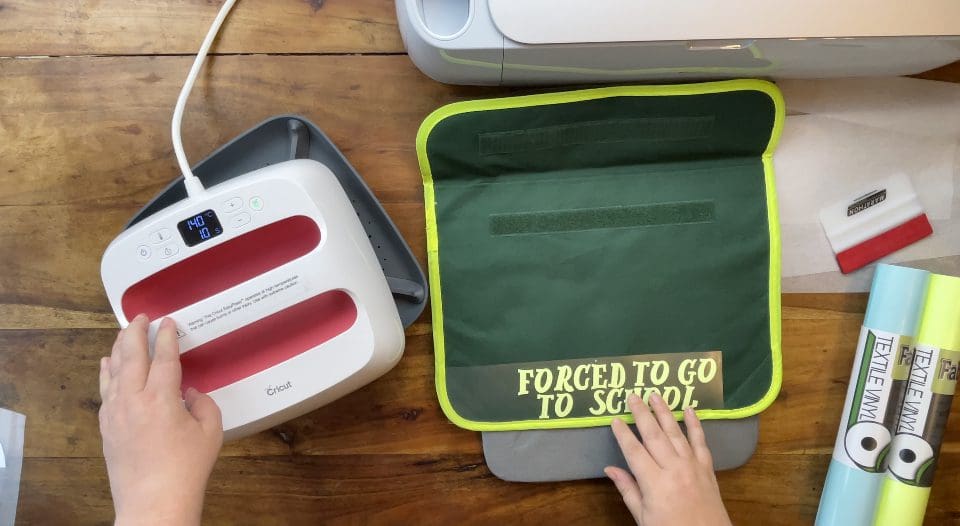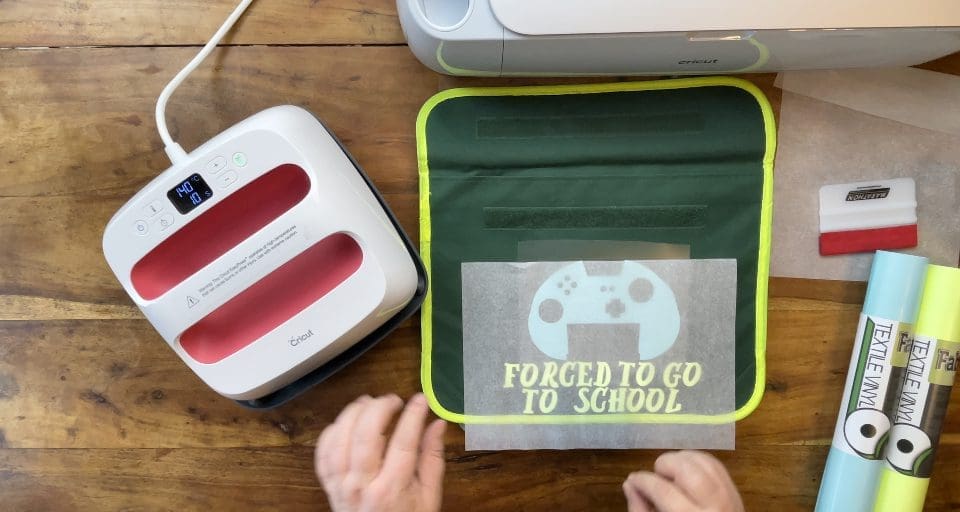 10.  If after removing the sheet the bag or  design is looking a bit untidy then recover with a sheet of Silicone Paper or baking parchment and quickly repress smoothing over it like an iron would, but quickly so not to over heat.  Don't forget your finished design can be matched by using any material cut using a cutting file, card, self adhesive vinyl or even HTV. We'd love to see your makes on our social media pages! Or email them in!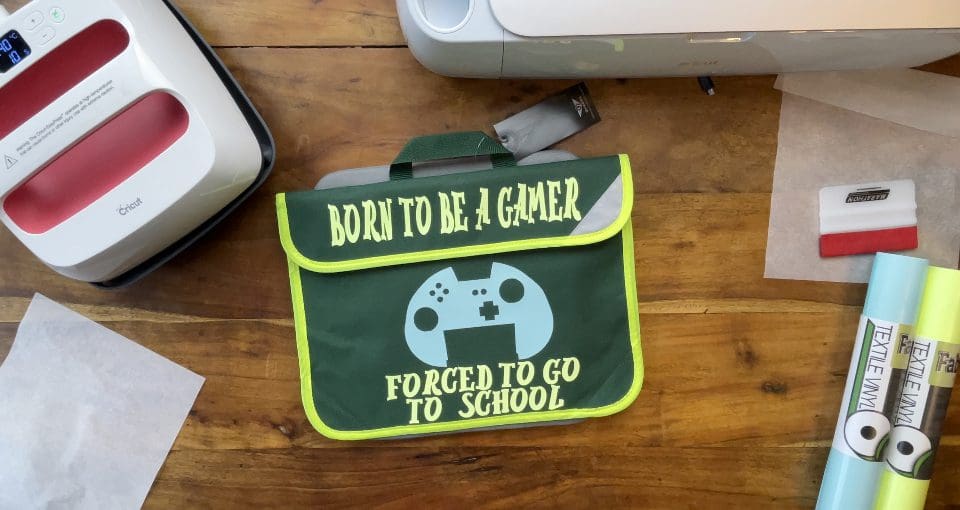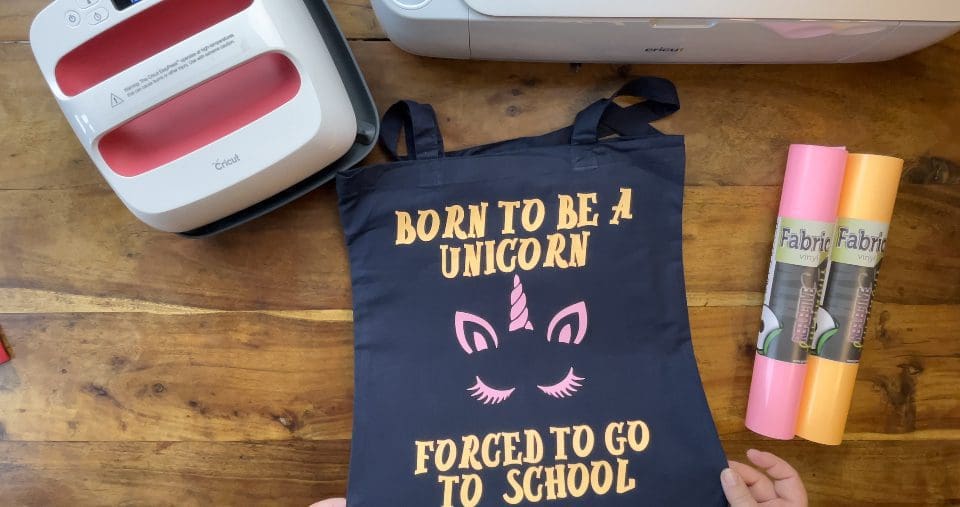 Silhouette Cut File
Instructions:
Before you start, you need to download the cut file,  Upload the cut file into Silhouette Studio and resize as necessary,  (when resizing bring all  layers into the design software and select all  at once to get the correct offset layers and save the adjusted file, so you can cut layers individually at that correct scale you have chosen) Remember to test cut if necessary and cut settings are found here along with test cut guidelines for every machine.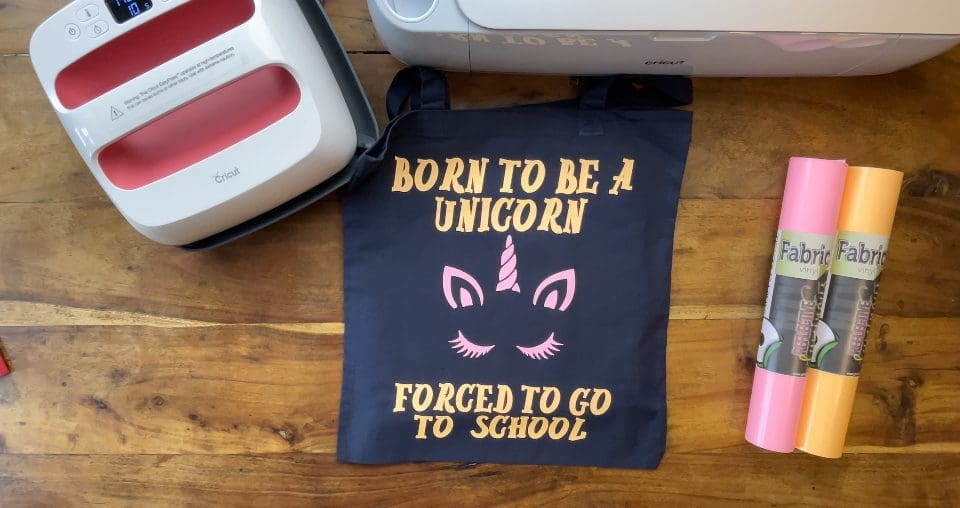 Brother Cut File
To import these files into the Brother Canvas Workspace:
After downloading, please log in as usual to your design space account, open a new project mat, then left click on the SVG  icon in the top left bar in canvas, this will then allow you to import your files. Once you left click this icon, a pop up box appears with you to choose where to import file  from, choose to import the file from your downloads list or where you have chosen to save when unzipped.
Cut settings are found here
Just incase you need the link CanvasWorkspace (brother.com)