Hello!
Welcome to another tutorial blog!  This week we are bringing you a tutorial to use with our new Crafty Vinyl – this has been exclusively created for you to use without your cutting mat on your Silhouette and Cricut machines. Although it can also be used on your machine's cutting mat should you wish, please test cut and reduce the settings accordingly, as per the individual instructions for creating a custom setting for your machine.
This design can be used in a variety of ways, including using it with HTV to create a canvas, or cutting it out of self adhesive to create a window display too. Cut it out of Self Adhesive or HTV Vinyl or use it with our A4 card available in a huge variety of styles here.
This design can of course be used for adults, kids, and you can use it for almost anything that you wish to personalise with a countdown theme!.
We would love to see what you make!  Have you found our  You Tube channel yet? The video showing this and all of our other tutorials are  available on there, as well as exclusive demos, inspiration and more!  Join us on Facebook , Instagram or Tiktok or  send us an email to [email protected] we would love to hear from you!
What you'll need:
Cricut Joy, or Cricut Maker 3, or Explore 3  . Available here
Or Silhouette Cameo 4. or Portrait Available here 
GM Crafty Vinyl Available  here
Blackboard Vinyl. Available here
Squeegee.  Available here
Weeding tweezers . Available here
GMCrafts LED light (weeding) panel. Available here 
App tape Available here
Scissors, Frame or Board from your own stash.
Rubbing alcohol and lint free cloth should you wish to clean the glass before applying the Blackboard Vinyl here
Cut files, are free below! Including Silhouette Cricut and Brother instructions to follow at the end.
Instructions;
1. Before you start you will need to download the cut files for your chosen machine, link above. Unzip the file to use it by right clicking it in your downloads.
2. Upload each PNG into the design space. Click "Upload Image"  on the left-hand Design Panel, and navigate to the  files you want to open. Select 'Insert image' and select image type 'simple' when prompted. Next you'll be asked to delete any space that does not get cut, you can skip this part by pressing 'continue'. When asked if they're print-then-cut images or just cut images, select cut images. Click save. When it has been uploaded, Insert the images onto the canvas and resize to suit your project.
Because I am using the Joy and 3 different rolls of our crafty vinyl, I have made sure the different parts I want to cut from each colour are the same colour (Red and Green) to cut them all at the same time from each different colour.
To get the correct size for my frame I am applying it to, I set the designs as shown below how I want them on my board, then select them all, so I can shrink this to the size of my board. I measure the area they will go on, and reduce the size to suit, My working area on the board is 28.5cm by 19.5, so you can see I have made the over all image size slightly smaller. Selecting them all like this, means you can shrink the whole size of the finished article down keeping the correct perspectives. As mentioned above I recolour each one differently, so I can cut the different Vinyl for each layer, which means I don't have to keep returning to the design page. Once you have chosen the files that you are cutting from the same continuos roll, see below, then click make it to move on to the next screen. On the next screen, If using the Joy, Cricut Explore 3 or Maker 3 then you will need to choose to cut without the mat.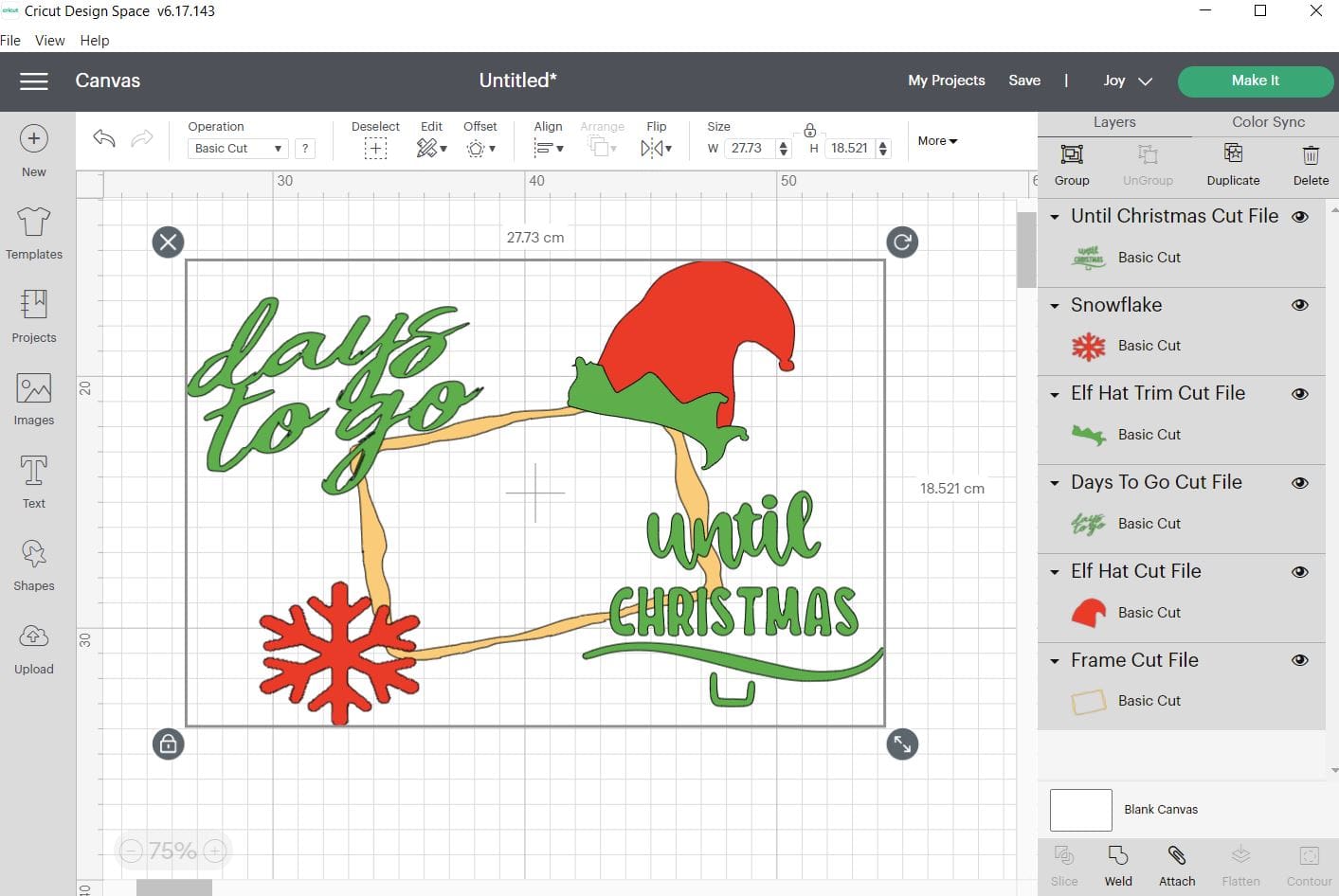 3. When on the next screen below, check the design area is as you expect- it will also tell you in the left hand column the material size required for the cut.  Click continue in the bottom right on the next screen. In the next window make sure your settings are all set to the successful settings from your test cut and ensure your machine is linked before proceeding to cut. Cut settings: (**please test cut) Apply the settings needed for your chosen Vinyl, we made it with our GM Crafty Vinyl, without the mat, on the cut setting- Smart Vinyl- Permanent with More pressure. If More pressure pushes the vinyl too hard into the backing reduce to Default, the settings page screenshot below is for illustration only, and the setting you need is dependant on your test cut.  If you are using a mat or a different machine, please adjust your settings and remember to test cut a small shape first.
**A reminder that these settings, including the blade setting, are specific to the materials and machine we're using, adjustments may be necessary if using different materials and machine**
We always recommend before proceeding, you test cut your materials when first using so if you have not recently used this product in your machine. Please test cut for your chosen machine found on our Application guide, and also Blog.  Load the Vinyl chosen individually for each layer.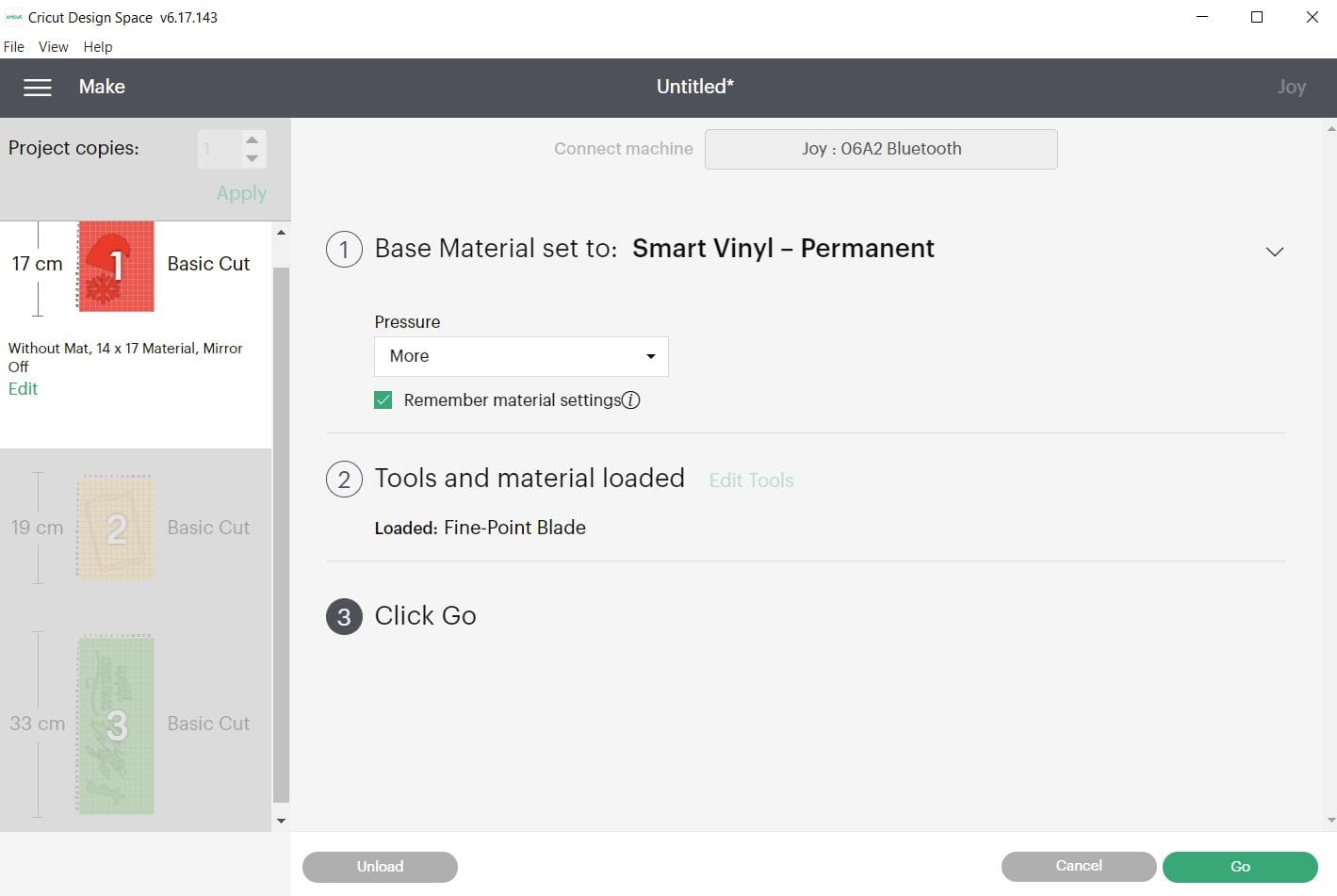 4. Take your roll of chosen Crafty Vinyl and load it into the Joy, addressing it to the front of the machine once you have the settings as per the above screen, the Joy will automatically load it for you, and proceed to checking the length of material will suit the design you have ready to cut. It will then need you to click GO once it has scanned the length, and will cut the design, once cut the machine flashes and waits for you to click the unload button on the screen once completed. See below.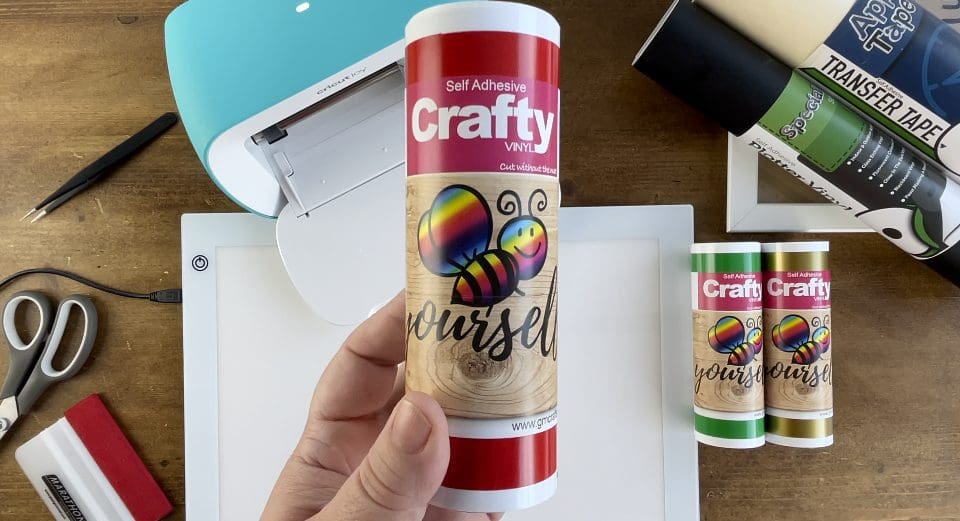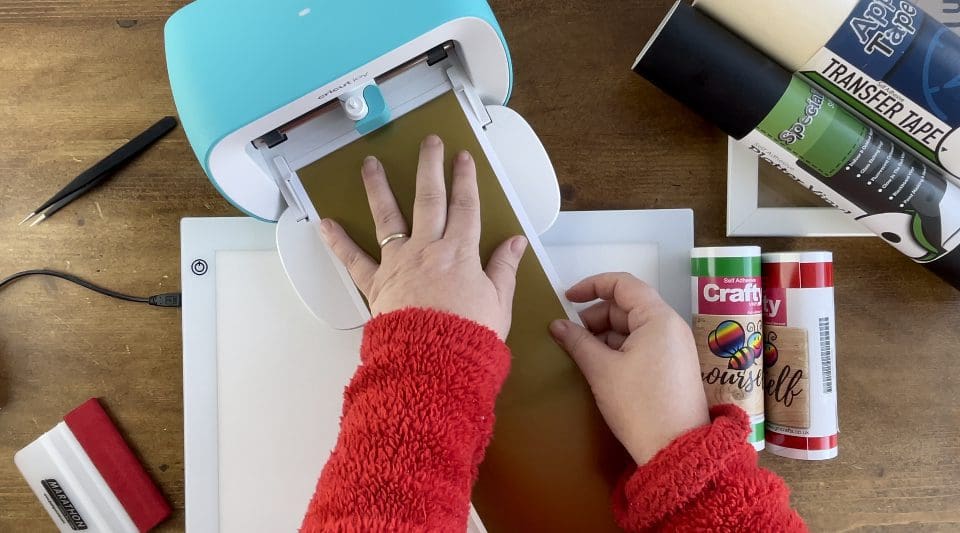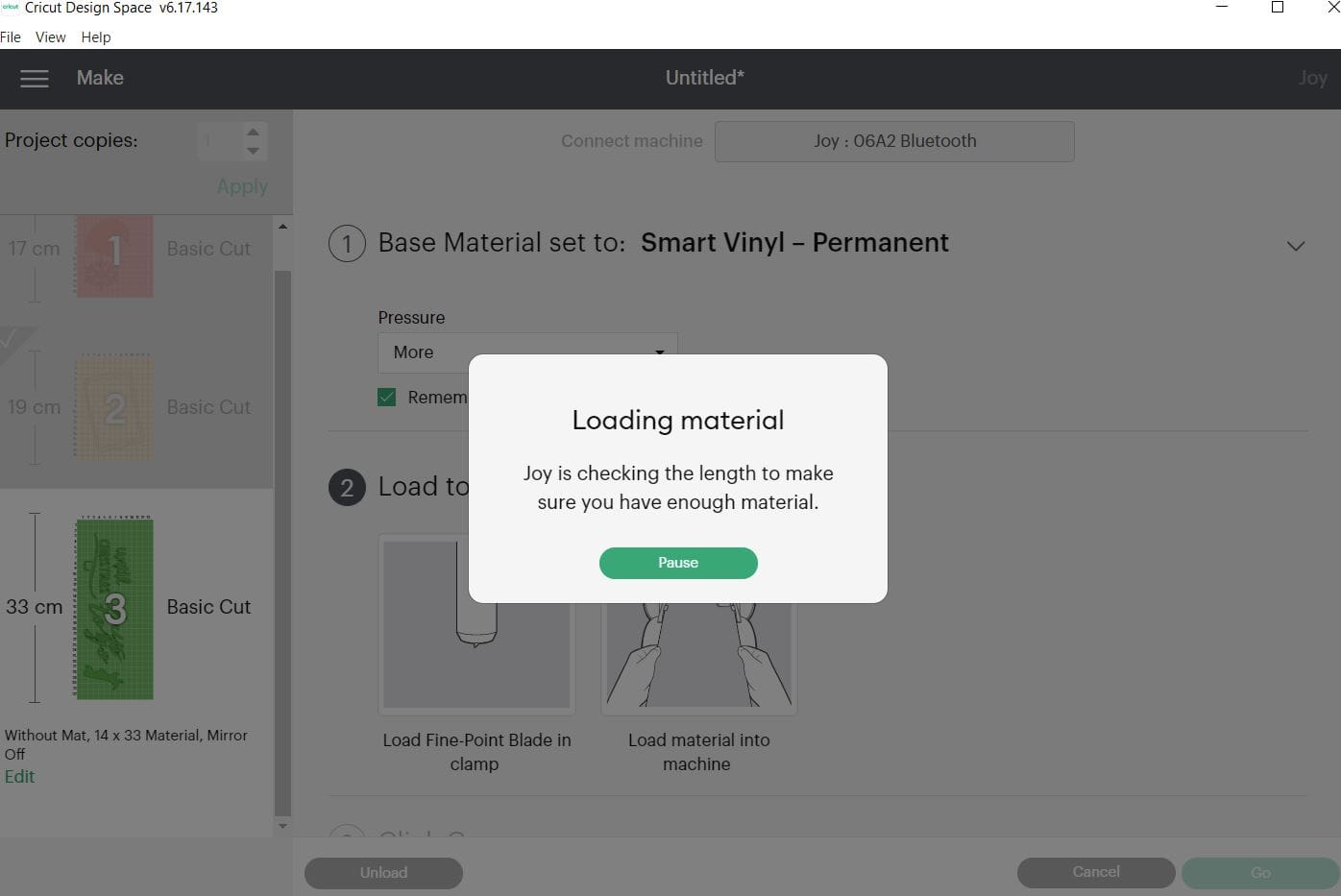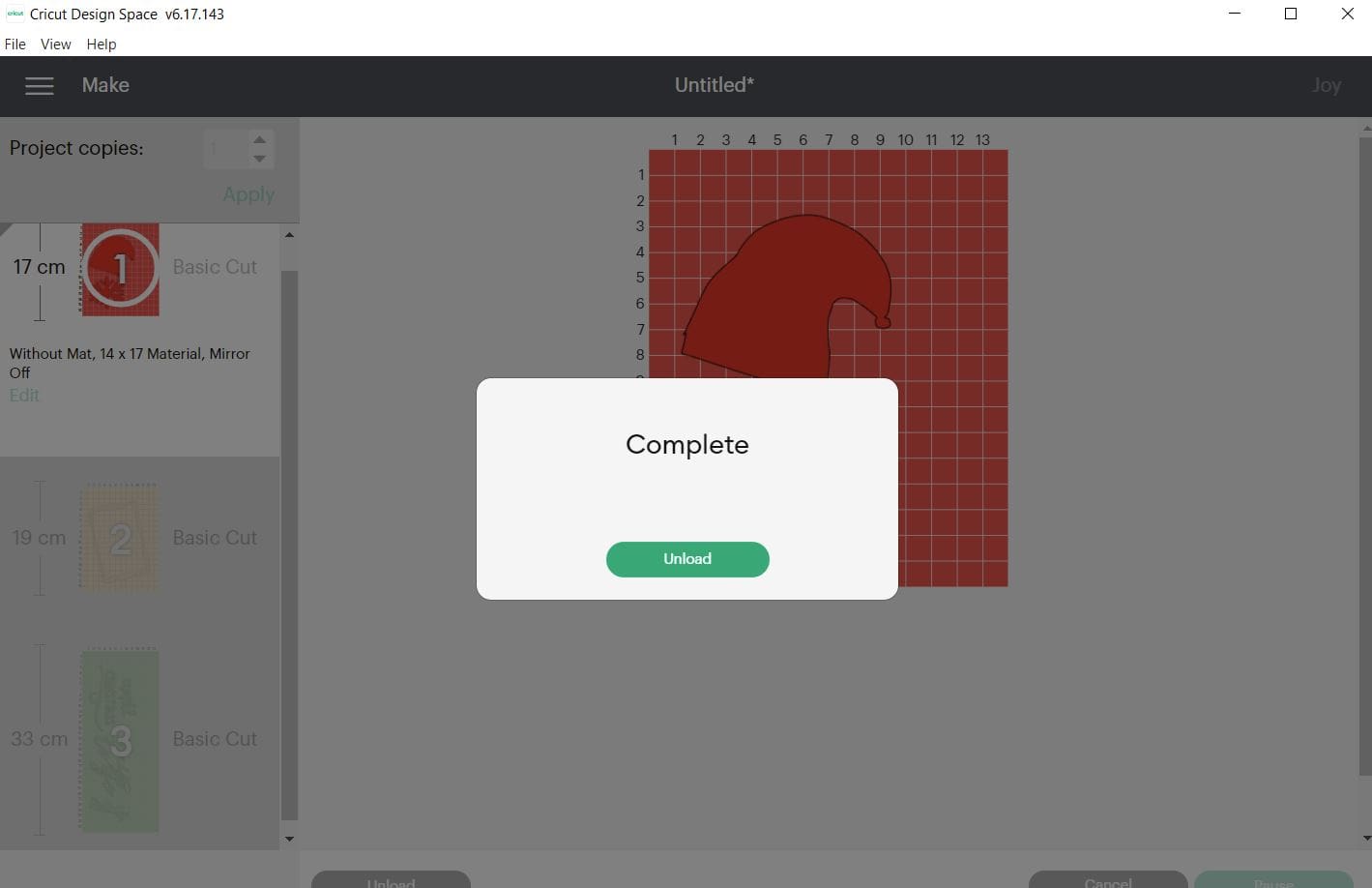 5. Once you have repeated step 4 for all 3 rolls of vinyl, you will need to cut the unused vinyl from the sheet to save waste, remember if you wish to use any left over scraps later on your mat, you will need to adjust your settings. Switch on your LED weeding pad, and proceed to remove any excess vinyl, leaving the design only behind on the carrier sheet. Remember the backing sheet once the vinyl has been removed is fully recyclable and can go into your household recycle bin. After weeding you can use your scissors to cut each layer from the sheet so you have each design separately again.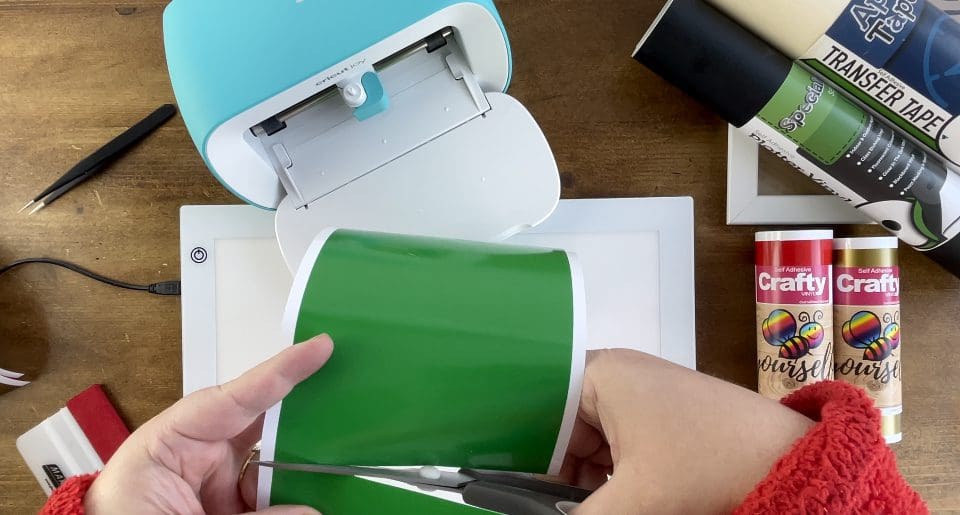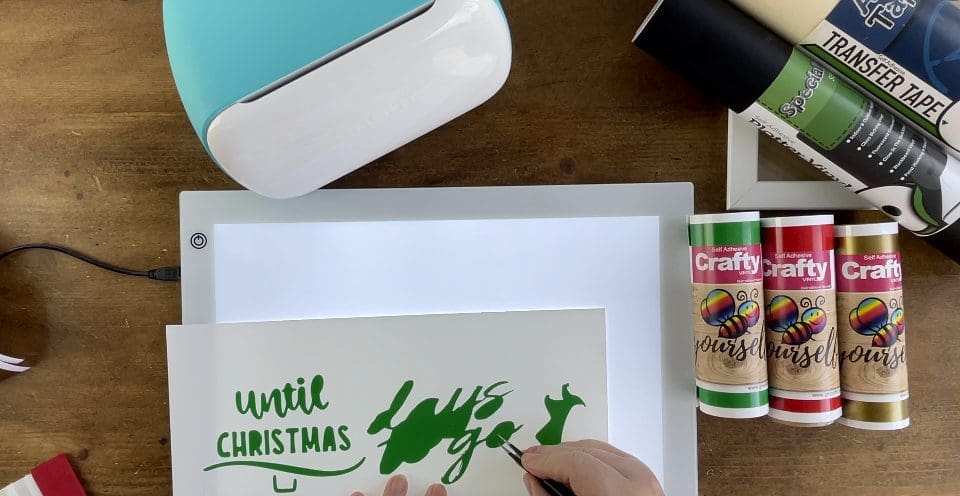 6. Once all 3 colours have been weeded and cut to form each separate design again, it is time to use the App tape ready to transfer it. Once weeded. Take your transfer tape and lay it with the sticky side facing up on the table. Place the design onto the sticky side face down, then trim the application tape from the roll to fit. Take your squeegee and rub the back of the vinyl hard to transfer it onto the application tape. Lift the backing paper that had the vinyl attached to it, back upon itself ready to apply. TOP TIP use High tack if you struggle to transfer, Low tack will take more time and patience.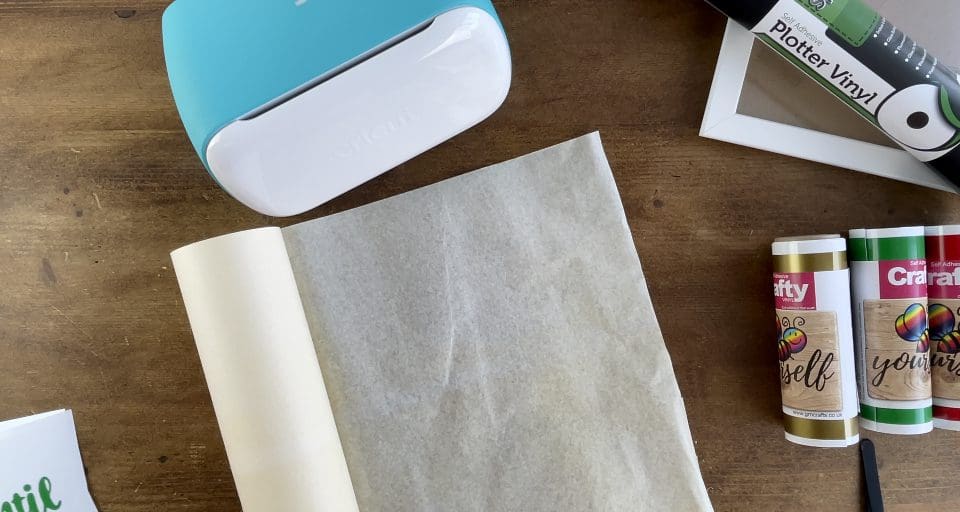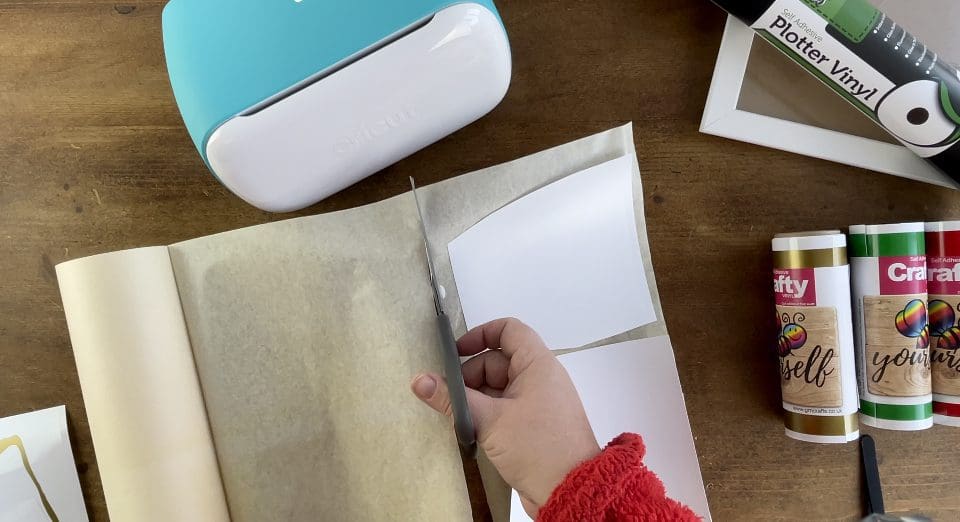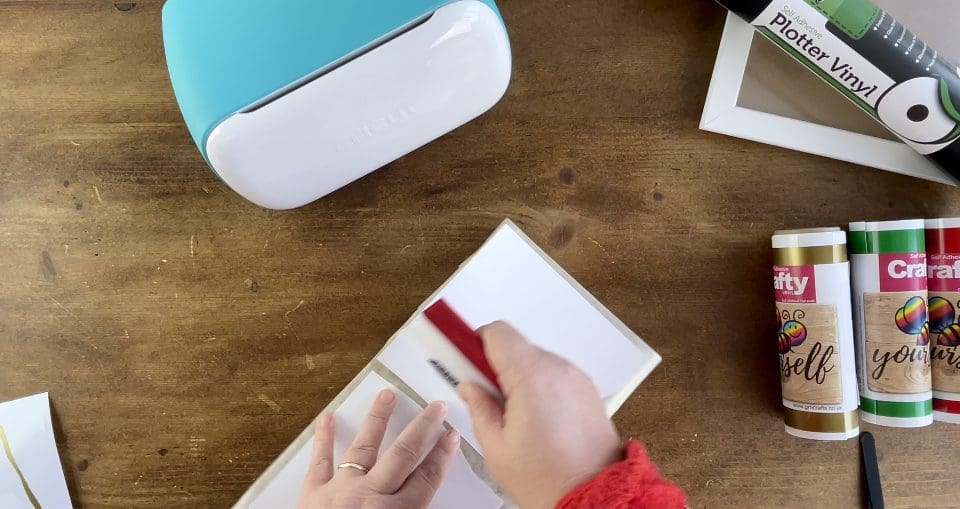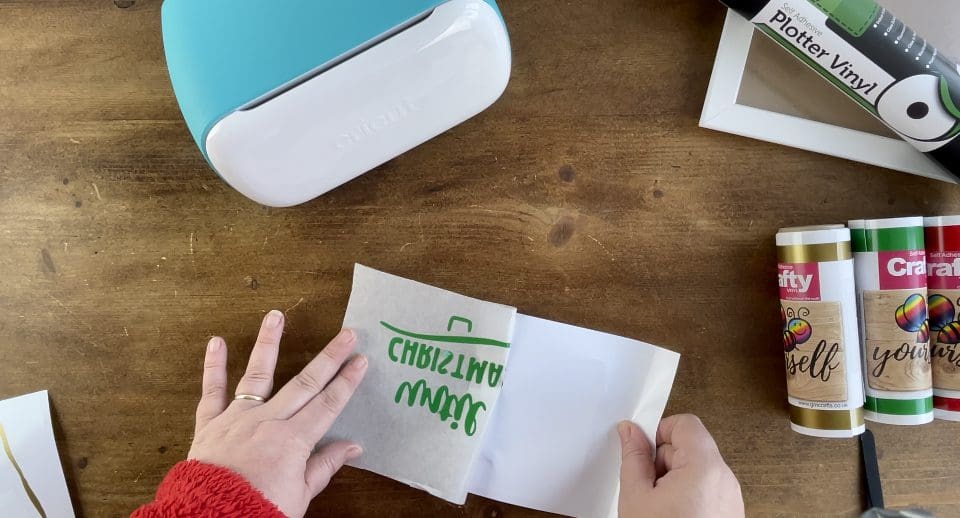 7. At this point we would normally advise you to use rubbing alcohol to degrease and prepare the surface, we are applying this to a plastic frame cover that has a protective film on, which during the video we removed, so we didn't need to use rubbing alcohol, if yours does not, then you will need to do this.
Once you are happy to proceed, take your Plastic (or Glass) from inside the frame, and cover the front with the Blackboard Vinyl. To do this, we peeled the front edge, lined the plastic up, and slowly applied the first edge, keeping the backing on the rest, so we could smooth with our squeegee, before unrolling the backing paper gradually from behind, smoothing out any air bubbles with our squeegee as we went, applying firm pressure also activates the adhesive.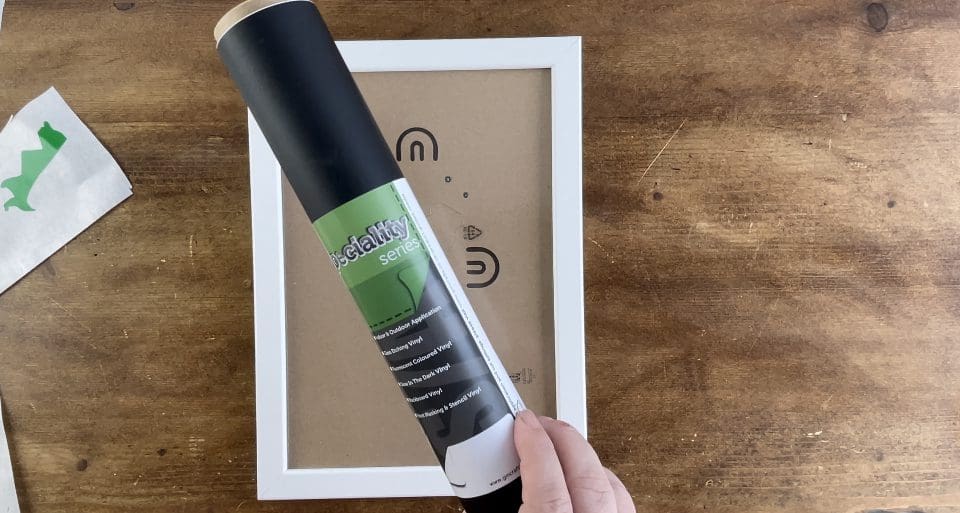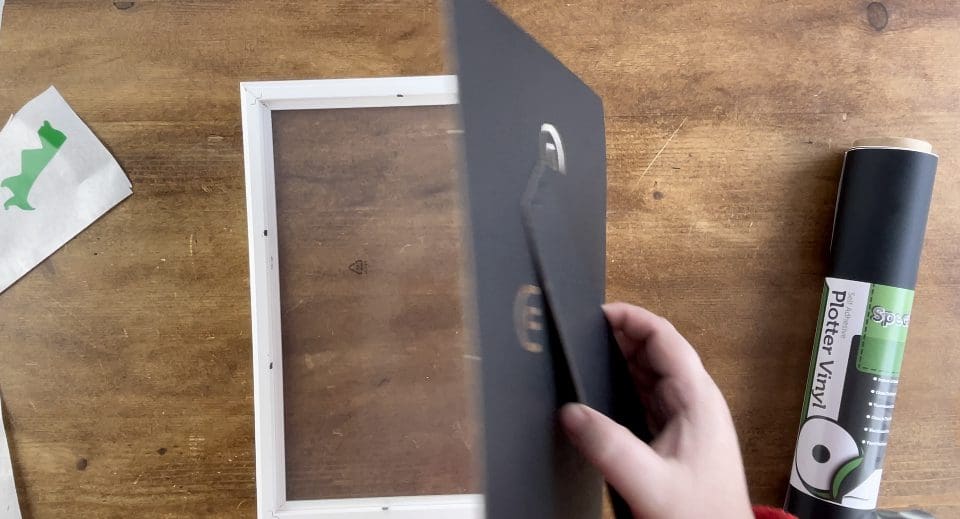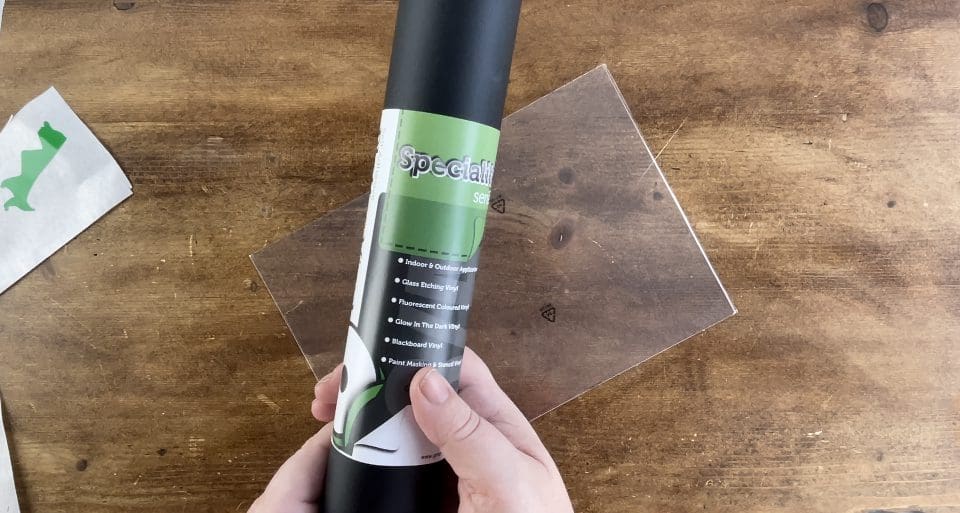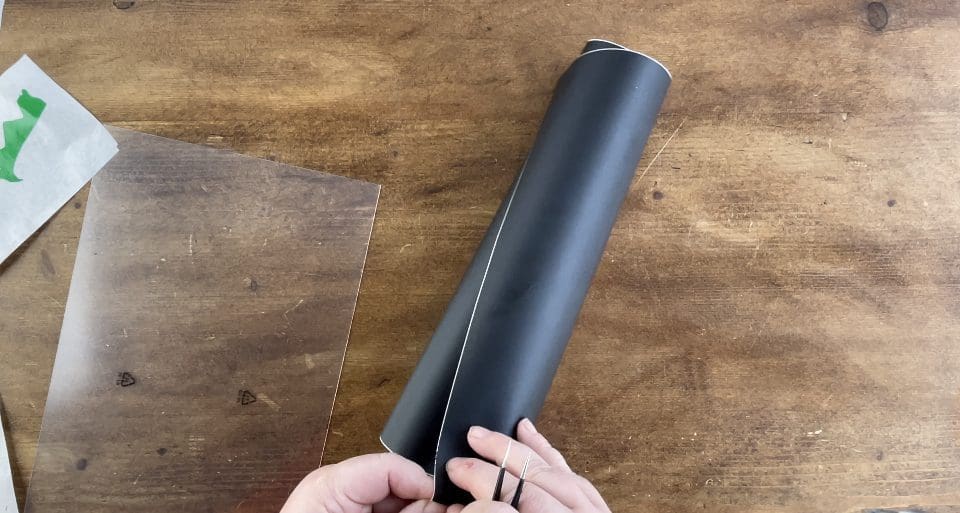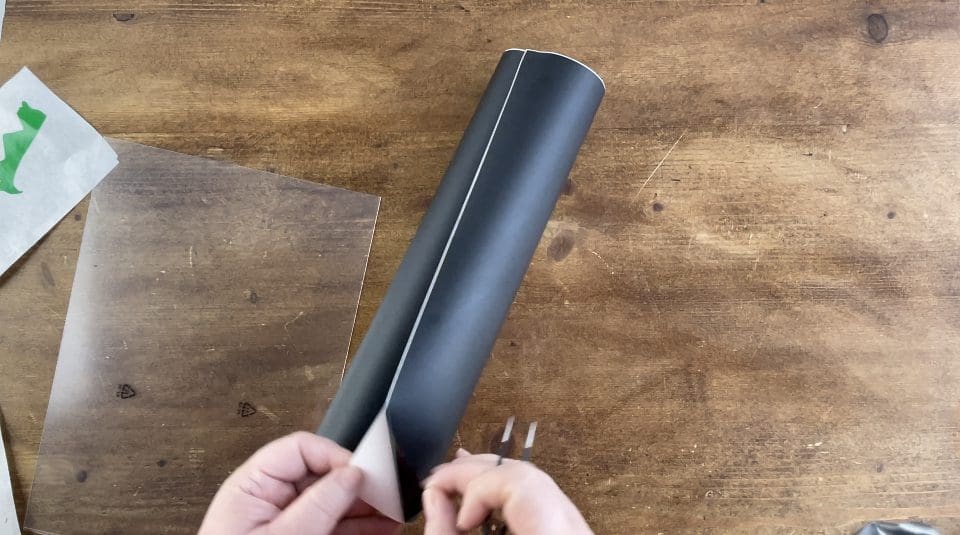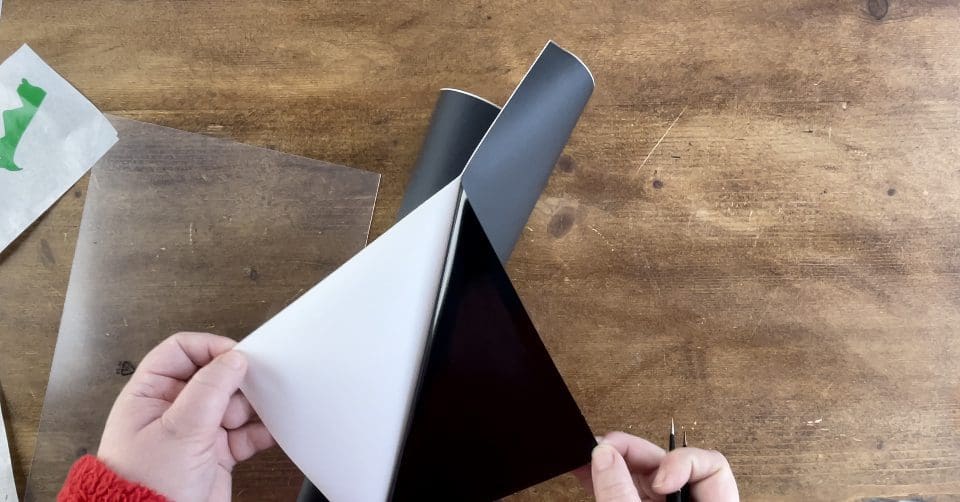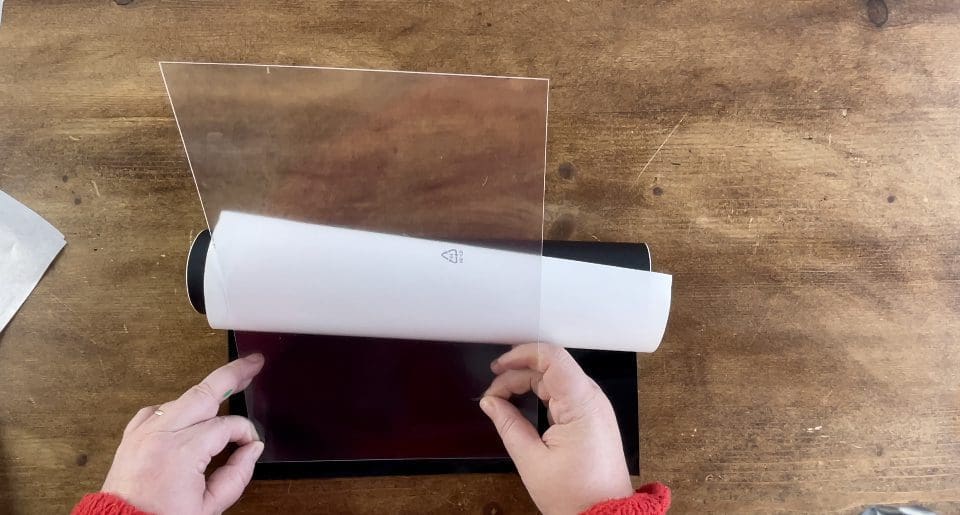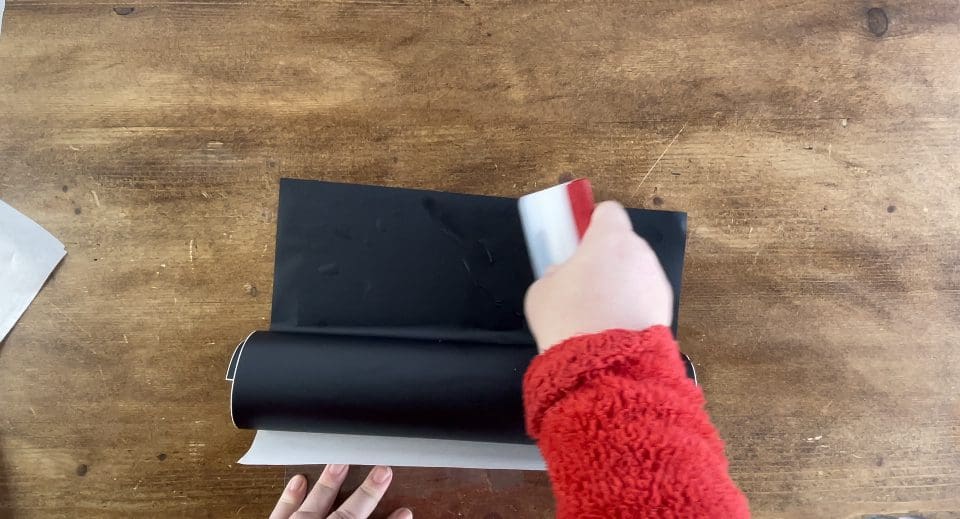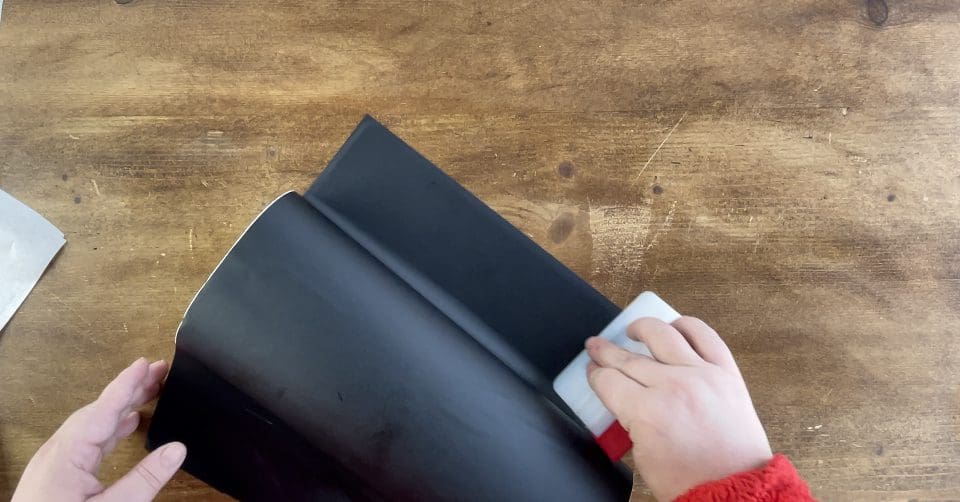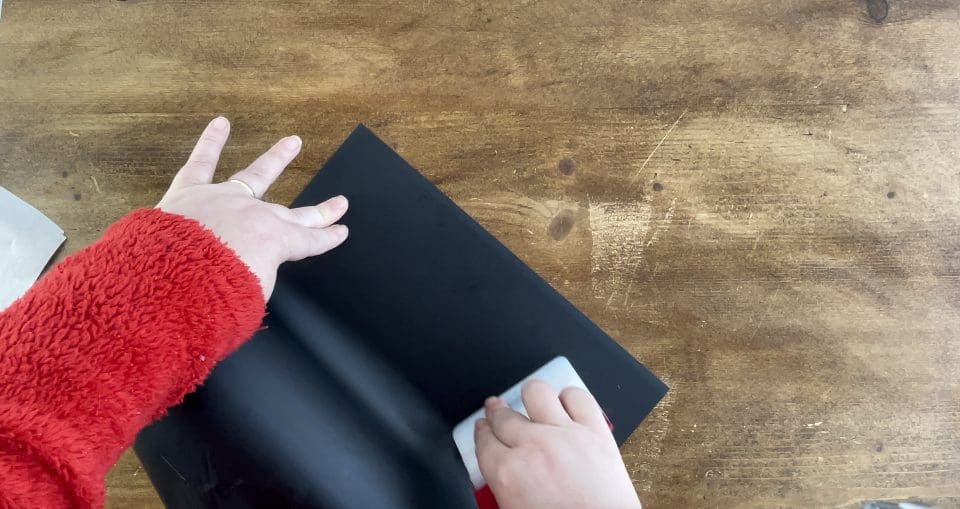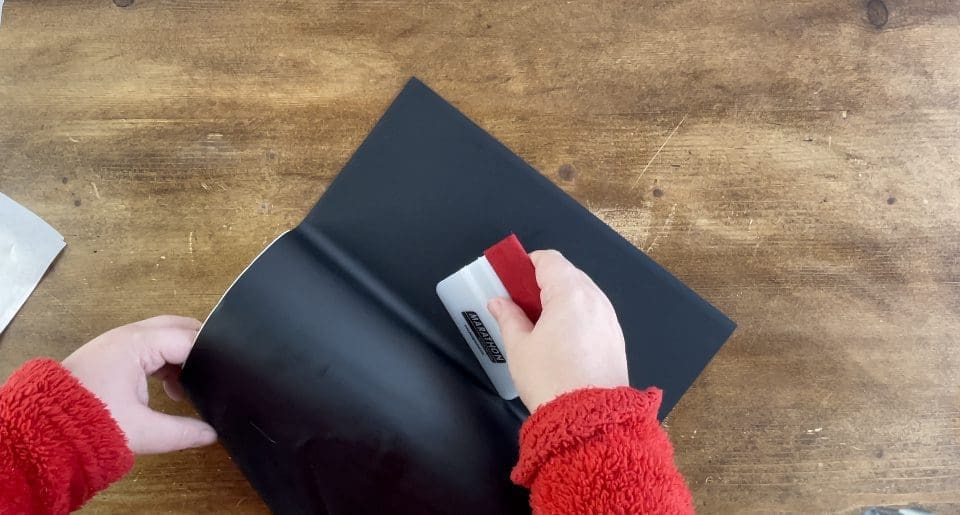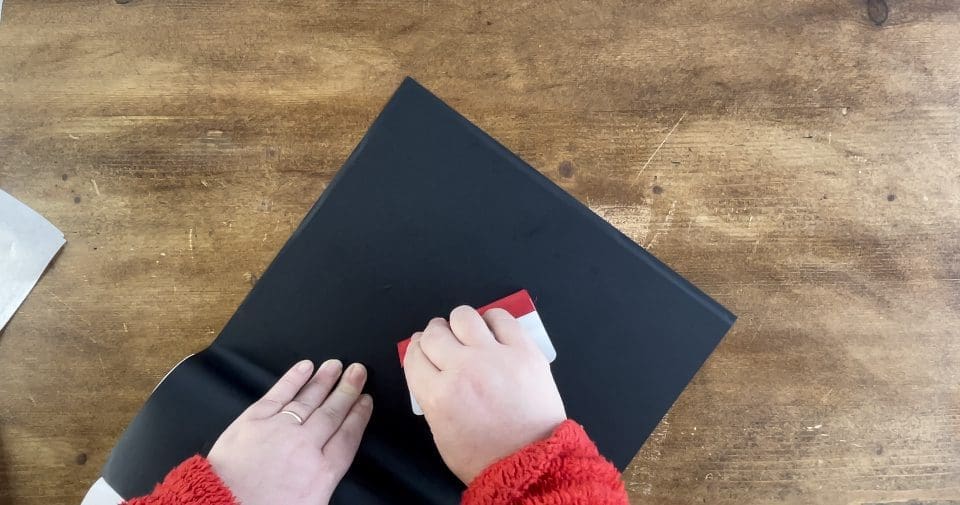 8. Once you are happy with application, take a pair of scissors and trim the excess vinyl from the Plastic (Glass or board) from behind so you can use the outline to guide you easily, before placing facing forward back in the frame, remember to close the clips at the back.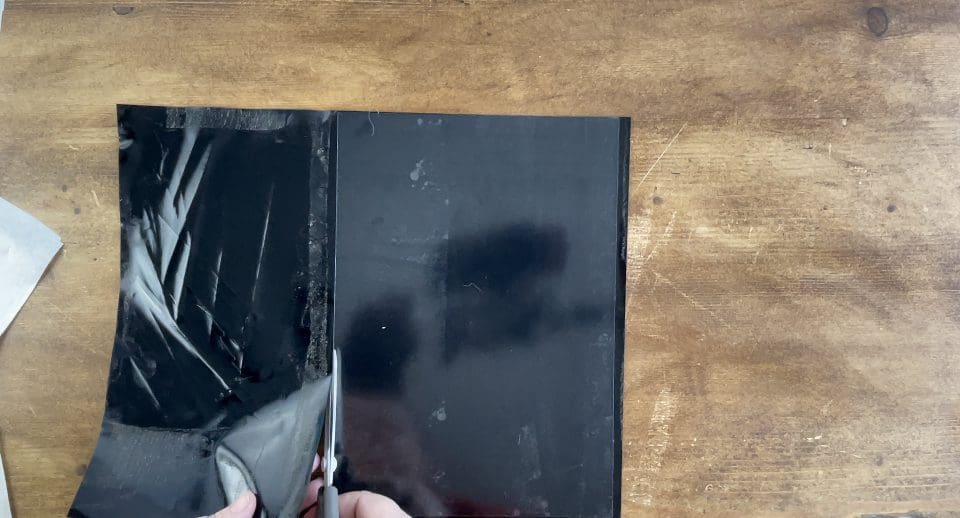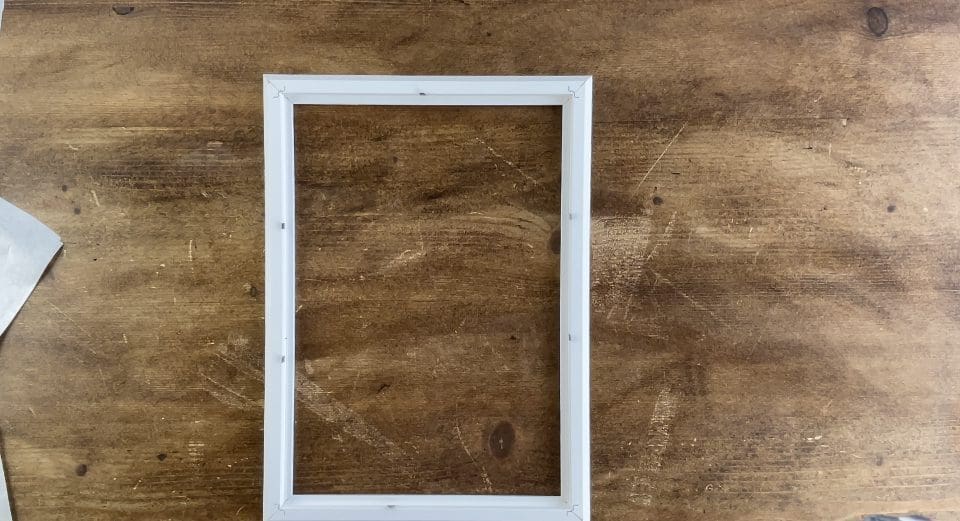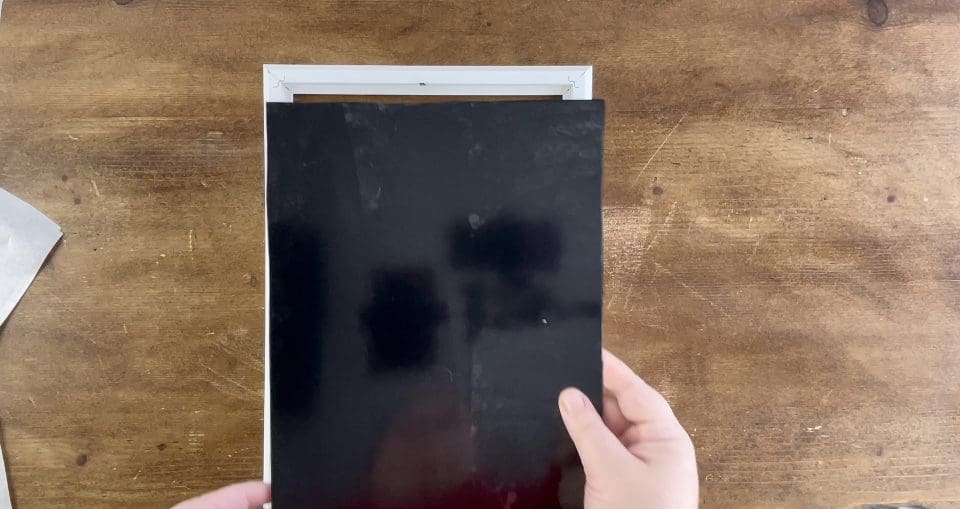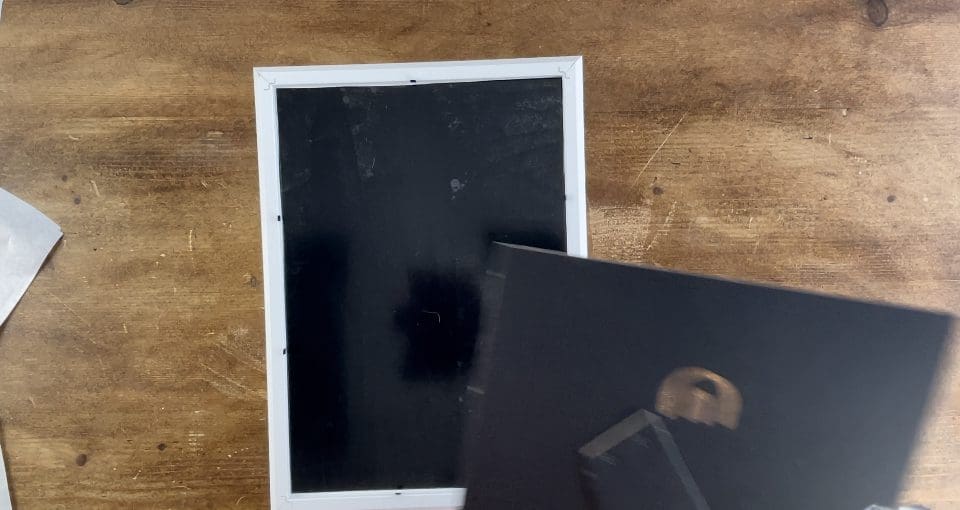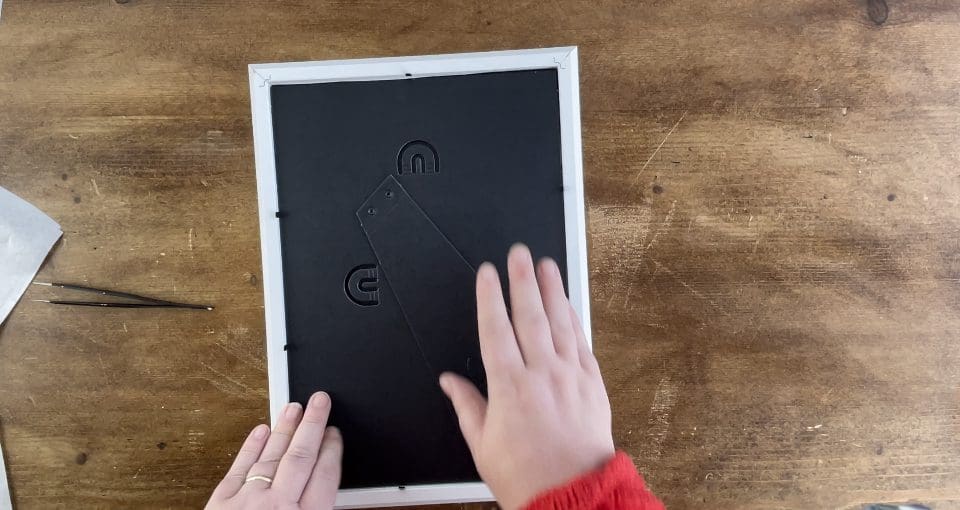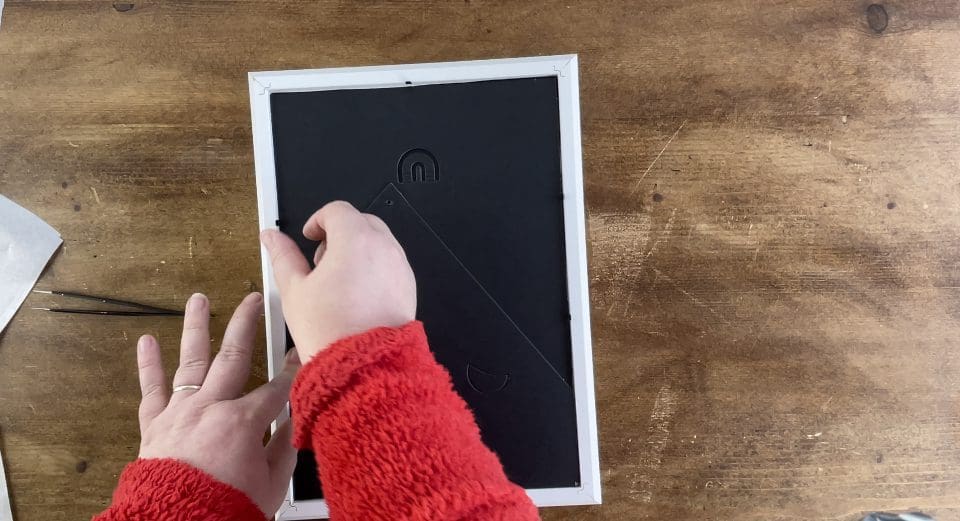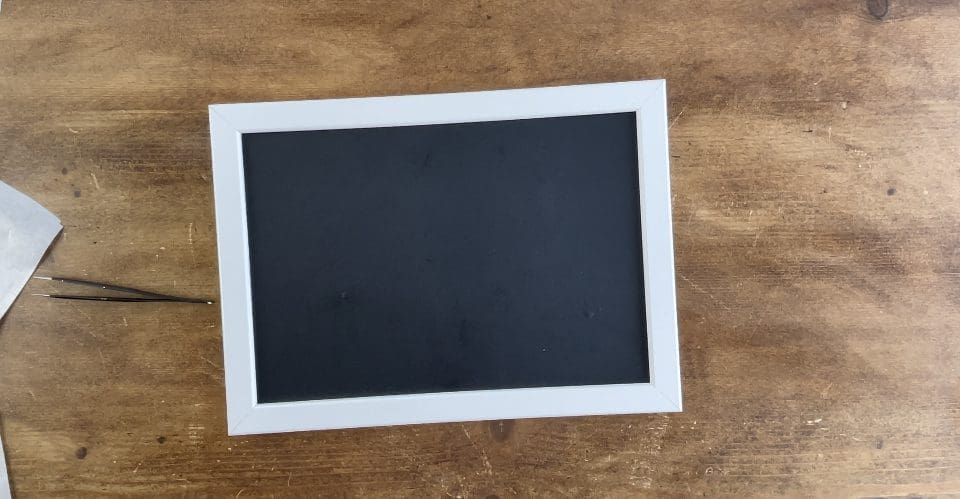 9. Proceed to apply each layer, removing the app tape before the next layer, once you are happy with the placement, smooth out any edges or creases with your squeegee.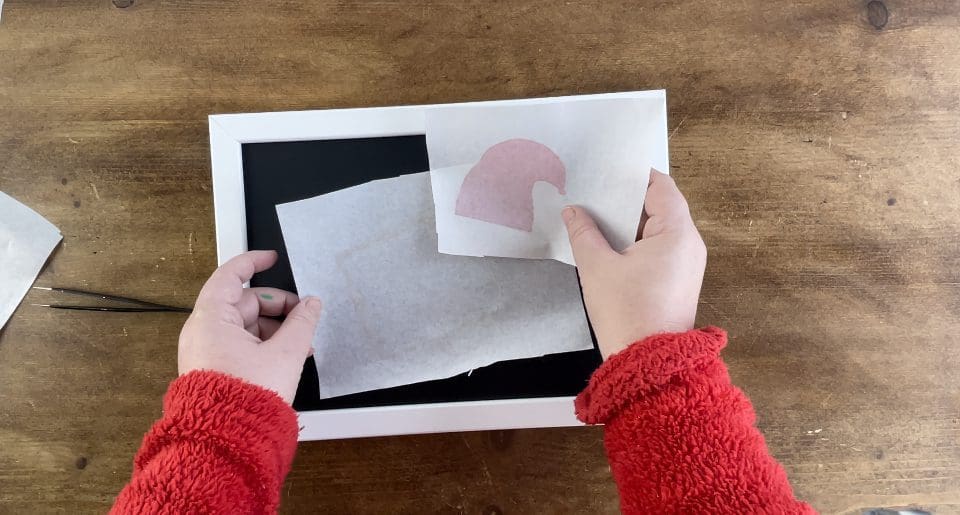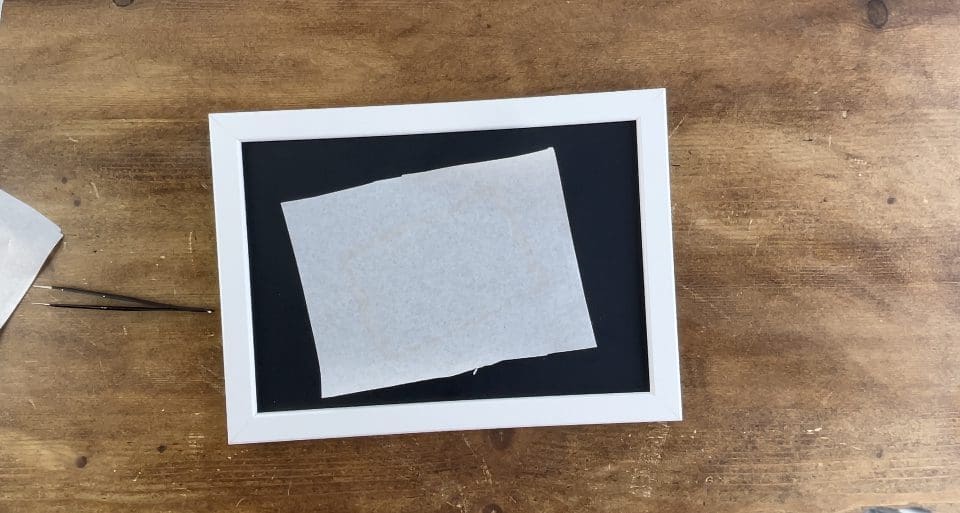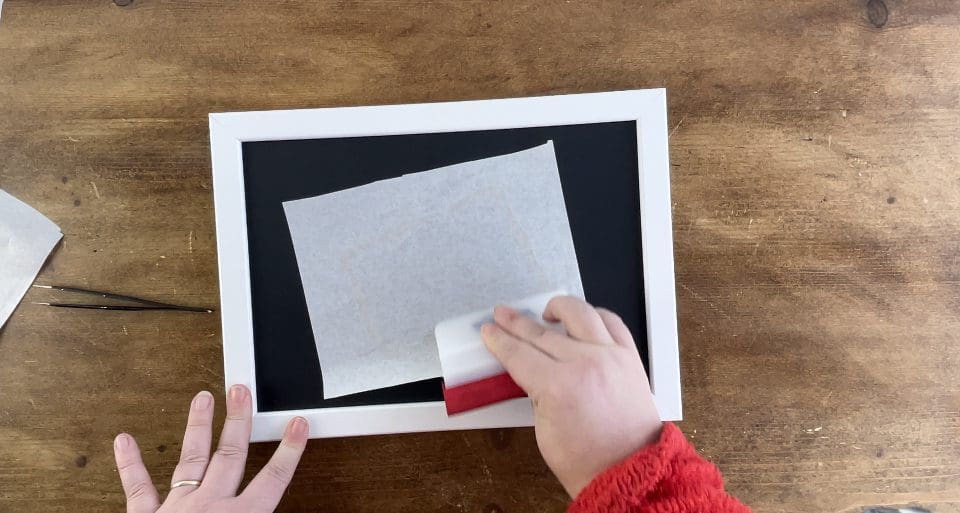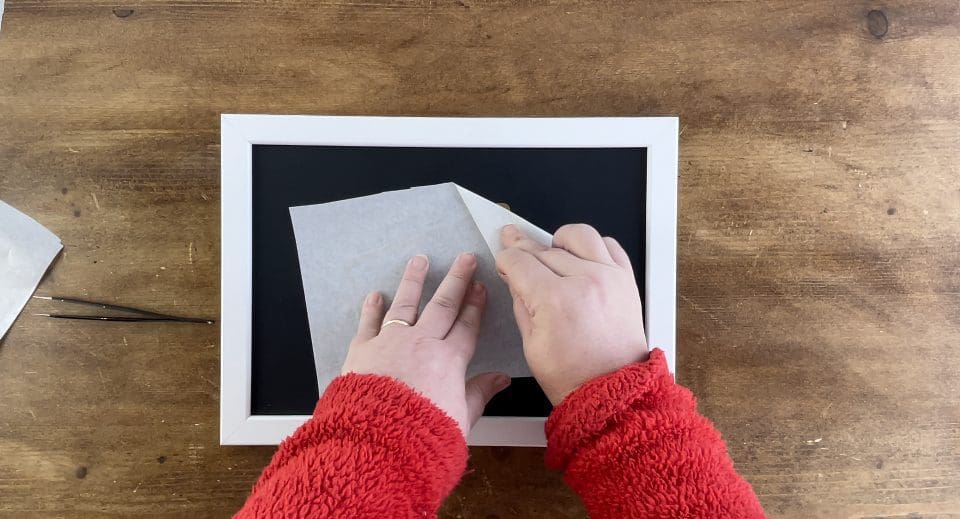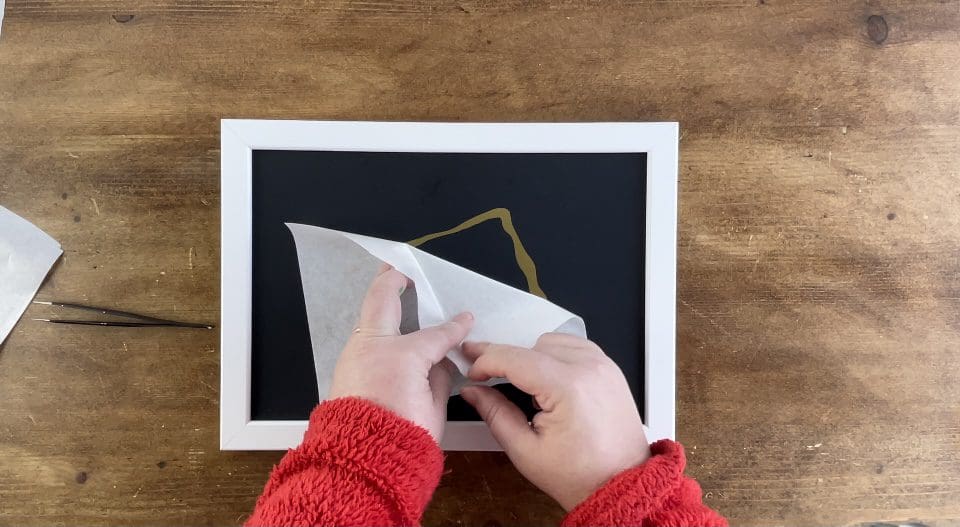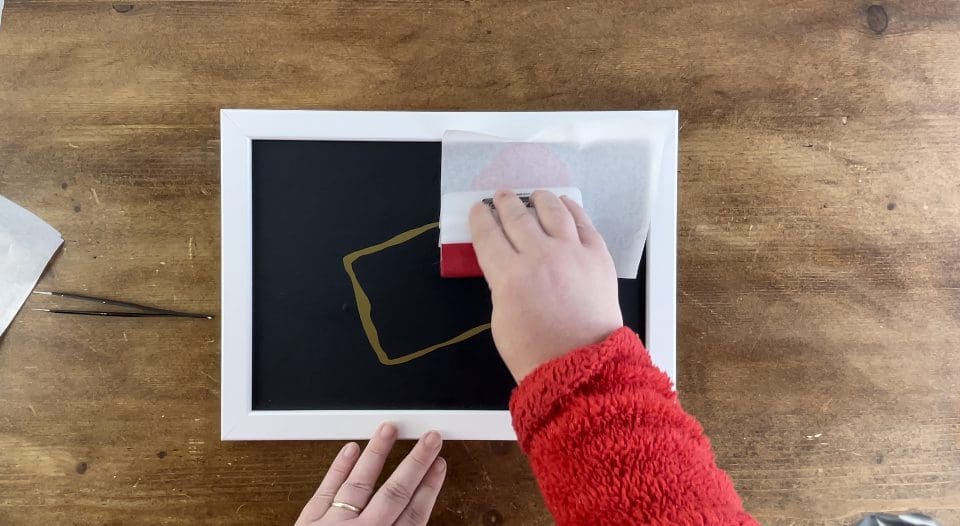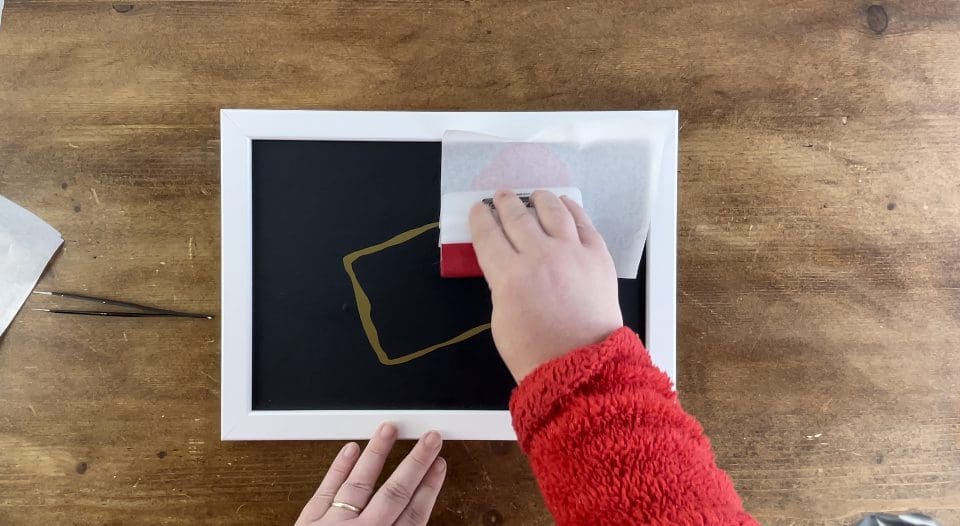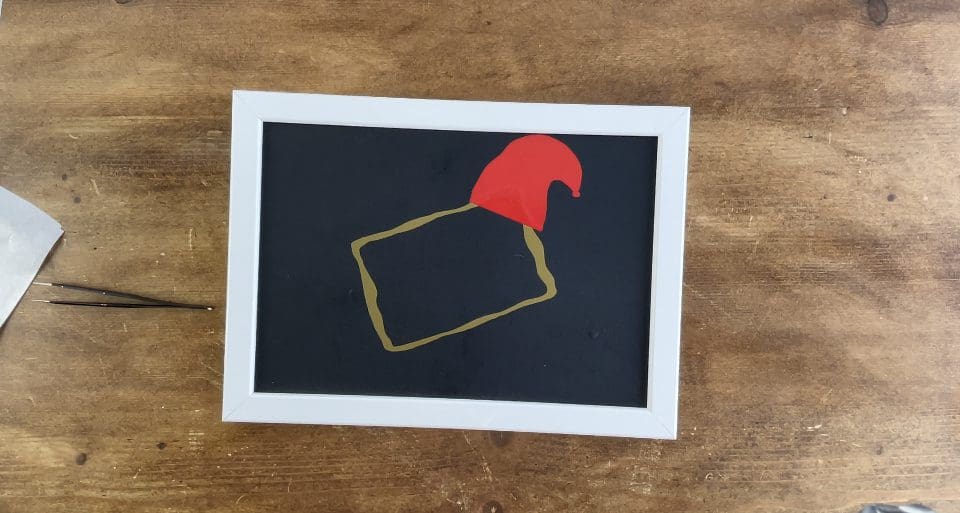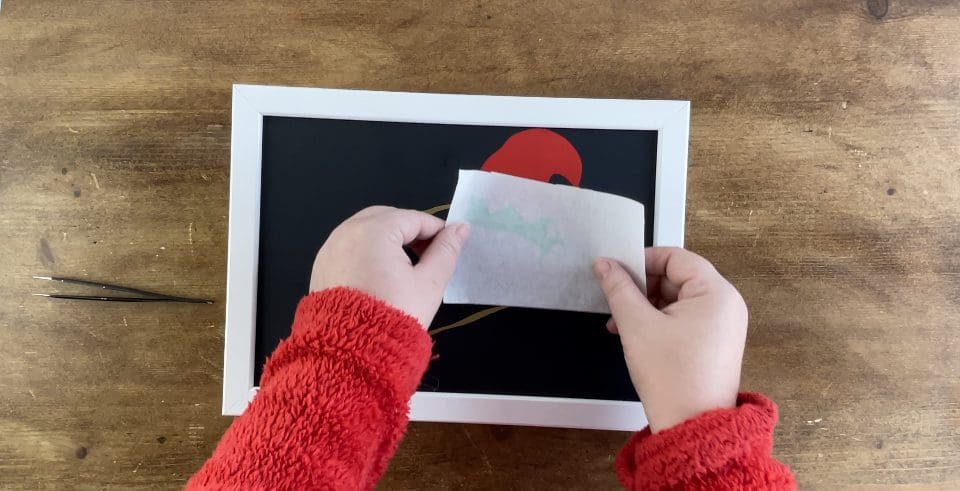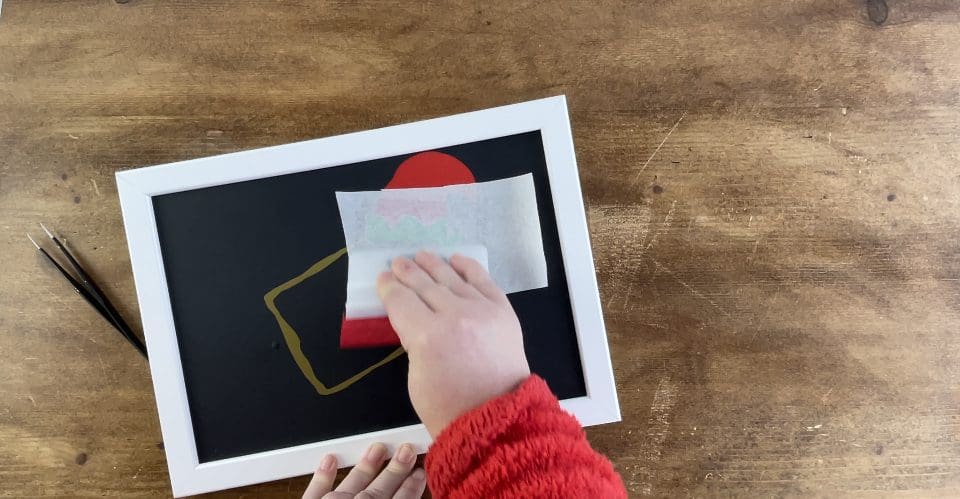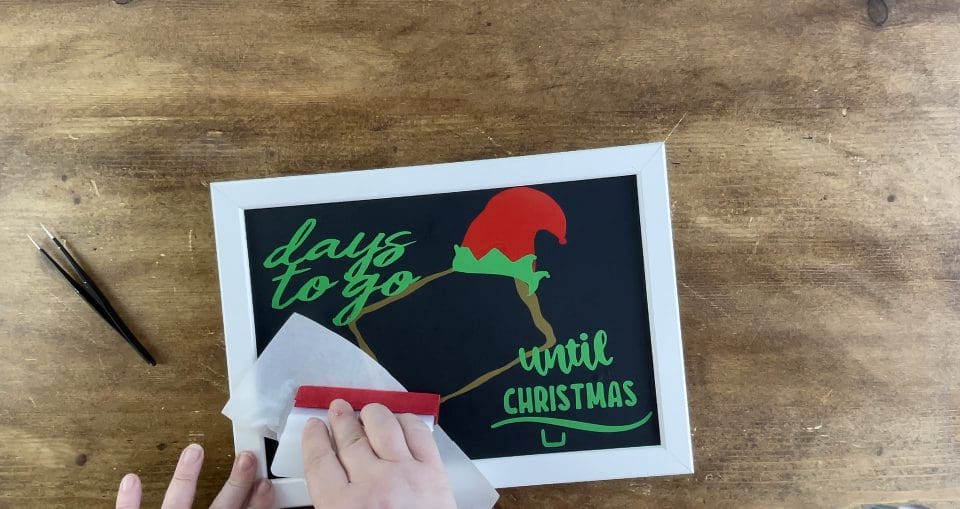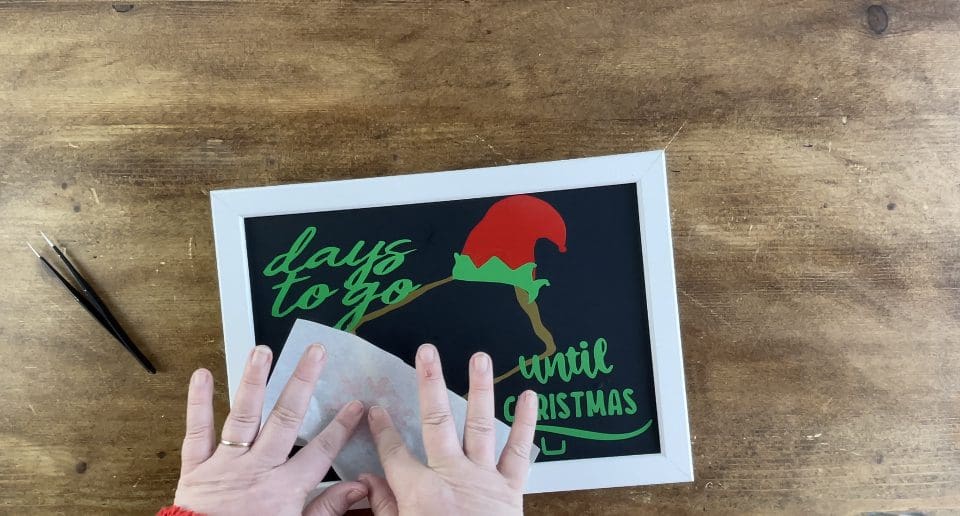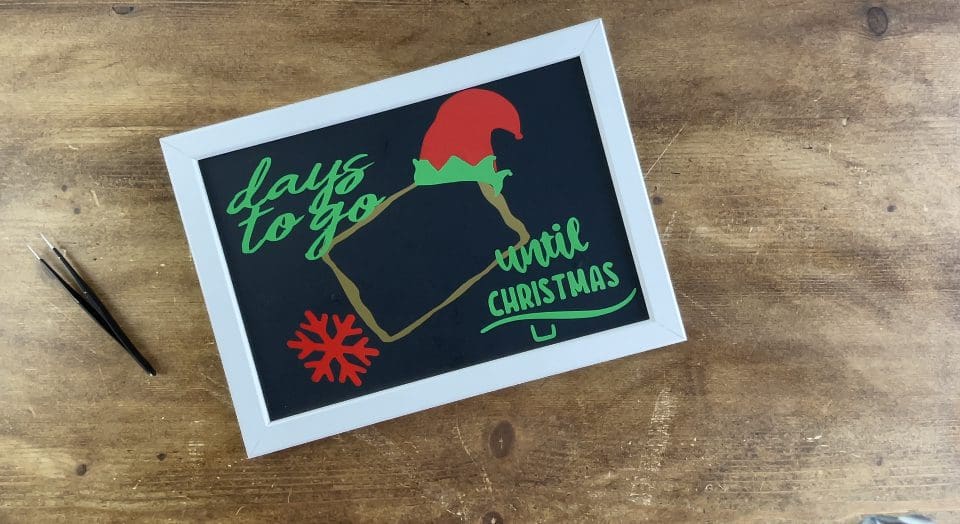 10. Your Countdown to Christmas board is now complete, and you can change the numbers daily using standard chalk, rub it out, and go again the next day, all the way to Christmas!
Don't forget your finished design can be matched by using any material cut using a cutting file, card, self adhesive vinyl or even HTV. We'd love to see your makes on our social media pages! Or email them in!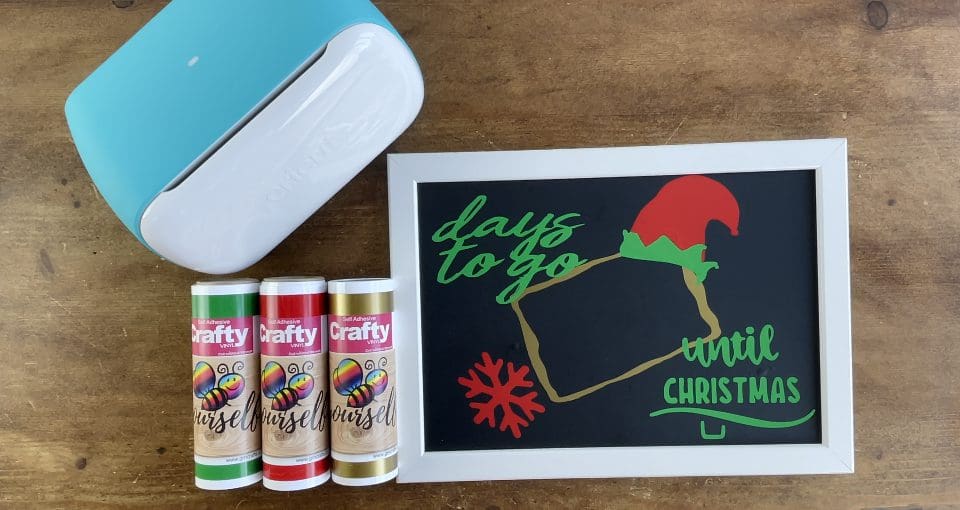 Silhouette
Instructions:
Before you start, you need to download the cut file,  Upload the cut file into Silhouette Studio and resize as necessary,  (when resizing bring all  layers into the design software and select all  at once to get the correct offset layers and save the adjusted file, so you can cut layers individually at that correct scale you have chosen) Remember to test cut if necessary and cut settings are found here along with test cut guidelines for every machine.
Brother Scan and Cut
To import these files into the Brother Canvas Workspace:
After downloading, please log in as usual to your design space account, open a new project mat, then left click on the SVG  icon in the top left bar in canvas, this will then allow you to import your files. Once you left click this icon, a pop up box appears with you to choose where to import file  from, choose to import the file from your downloads list or where you have chosen to save when unzipped.
Reminder – Test cut! Cut settings are found here