INTRODUCING OUR INCREDIBLE MATERIAL COUPON CODES! In conjunction with the Black Tag Event, we're rolling out some truly outstanding coupon codes for HTV, Self Adhesive and Papercrafts: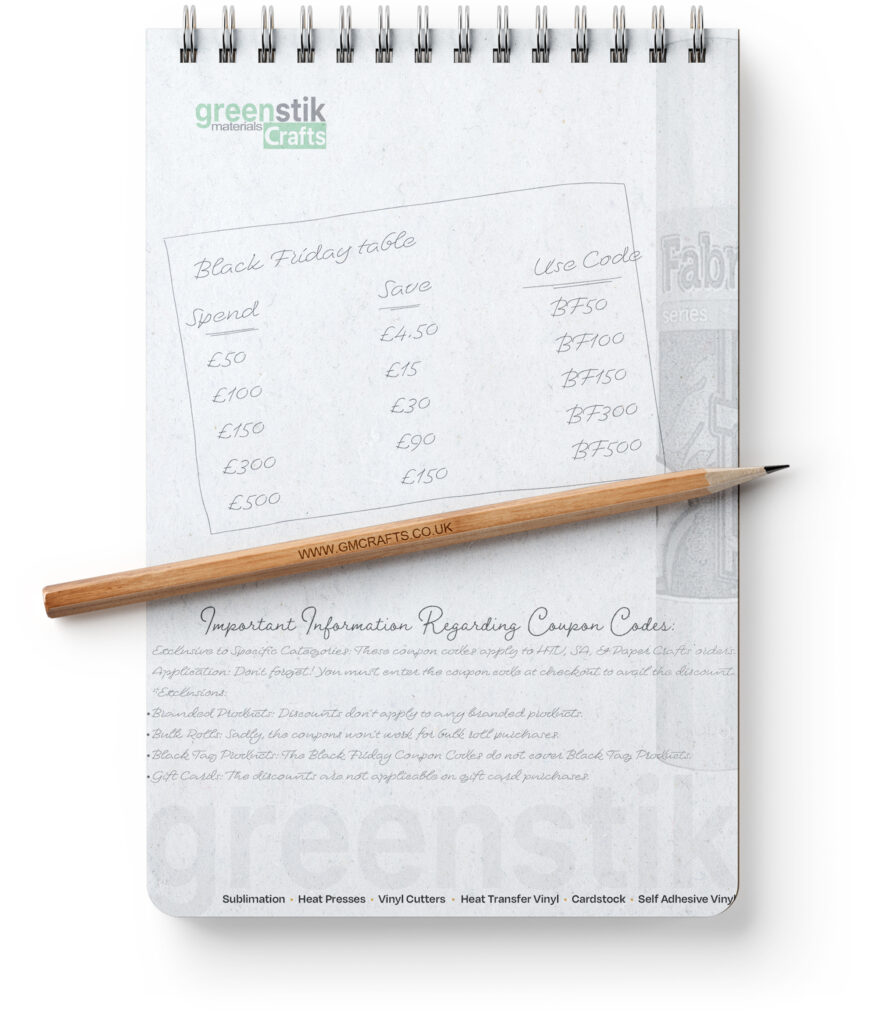 BF50 – Save £4.50 on orders over £50
BF100 – Save £15 off orders over £100
BF150 – Save £30 discount on orders over £150
BF300 – Save £90 off orders over £300
BF500 – Save £150 off orders over £500
Important Information Regarding Coupon Codes:
Exclusive to Specific Categories: These coupon codes apply EXCLUSIVELY to HTV, Self Adhesive, and Paper Crafts orders.
Application: Don't forget! You must enter the coupon code at checkout to avail the discount.
*Exclusions:

Branded Products: Discounts don't apply to any branded products.
Bulk Rolls: Sadly, the coupons won't work for bulk roll purchases.
Black Tag Products: The Black Friday Coupon Codes do not cover Black Tag Products.
Gift Cards: The discounts are not applicable on gift card purchases.
So, why wait? Dive deep into our website, utilize those coupon codes, spot the Black Tags, and make your November a month to remember!
Let the savings begin!
Are you ready for the shopping event of the year?
Black Friday is back, and it's bigger and better than ever! Get ready to embark on a shopping journey like no other with our Black Tag Event and exclusive Coupon Codes. At GM Crafts, we're not just giving you discounts; we're making your shopping experience more exciting, affordable, and rewarding than ever before.
What's the Black Tag Event? Our Black Tag Event is an entire month of jaw-dropping discounts and unbeatable offers. We've taken the time to go through our inventory, sharpen our pencils, and strikethrough those prices. This means savings like you've never seen before!
How to Spot the Deals? Looking for these special deals? It's easy! While browsing our site, keep an eye out for products with a black tag or a strikethrough price. That's your sign that you've stumbled upon an incredible deal.
Why Shop During the Black Tag Event?
Huge Savings: Prices have been slashed across various categories, ensuring you get the best deals.
Exclusive Products: Some of our special Black Tag offers are exclusive items, which you won't find anywhere else or at any other time!
Limited Time: Remember, these offers are only available in November, so make sure to snag your favorites while they last.
Tips for Shopping the Black Tag Event:
Bookmark Our Site: You'll want to check back frequently as new deals might be added!
Act Fast: With prices this low, items are bound to sell out quickly.
Spread the Word: Share our Black Tag Event with friends and family so they don't miss out on the savings.
Browse the brands below for Black Tag Specials!